NEW YORK (WABC) -- Saturday was practically t-shirt weather, and Sunday night was jackets, scarves and gloves. The high wind is really making it feel like winter, with many parts of our area seeing some snow.
"We did a double take when we came outside, we were like 'well, it's pretty cold outside, winter is a while away - wait, it's snowing, what?'" said Jack Simons.
It wasn't exactly a blizzard, but there was a very light sprinkle of snow in Queens Sunday night.
"I'm from Florida, and this is my second winter out here. Yesterday morning it was Florida, and today is all New York. It came out of nowhere," said Vinny Sharma.
Many people in Monroe, Orange County had to take out their snow blowers Sunday morning - and it's not even Thanksgiving yet. Residents woke up to several inches of snow.
"I think it's absolutely crazy. I went to bed, and woke up to a winter wonderland," said Kristen Sikoryak.
In Garfield, New Jersey there was a heavy fire, possibly fueled by the high winds. The fire on Cambridge Avenue knocked over a tree, causing live wires to fall onto a home.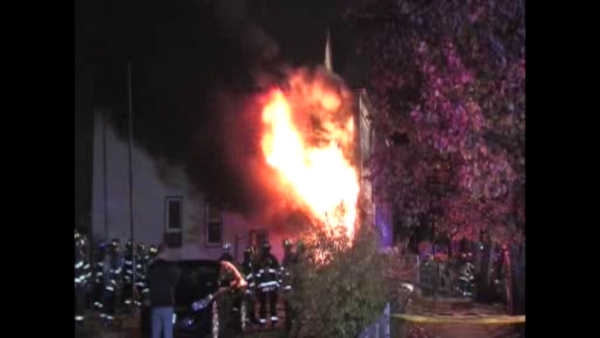 Meanwhile, in Sunset Park, Brooklyn, the wind tore down wooden boards at a construction site. Because of the 40mph wind gusts, the Department of Buildings advised property owners, contractors and crane operators to secure all equipment.
However, some say that it was about time for the cold blast.
"It's jarring, but I mean, this is what it should be," said Mike Isabella.
As for the Department of Buildings advisory - they say the strong wind gusts should last through Monday evening.
Meteorologist Jeff Smith has details on how much snow we can expect in the New York area this winter.
Click to watch the 7-day AccuWeather forecast and get the all the weather any time at abc7NY.com/weather.