SOUTH OZONE PARK, Queens (WABC) -- Police are searching for the driver who caused
a crash in Queens,
killing a mother and injuring her 9-year-old daughter.
Police say a black BMW SUV caused the crash Sunday. Surveillance video shows the SUV speeding as it was traveling westbound on 115th Avenue.
The BMW then slammed into a red Toyota, ejecting the mother and her daughter from the car.
The mother was pinned under the vehicle. She died at the scene and has been identified as Zaalika Rasool.
Her daughter Sarah is in stable condition.
They were passengers in the car being driven by Zaalika's husband, that was hit by an alleged drunk driver.
Police say the driver went through a stop sign, striking the family's car and then hitting several other parked cars.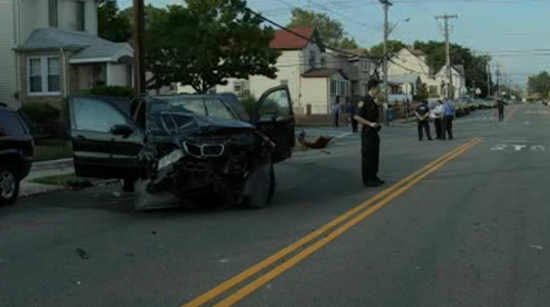 Witnesses said the driver was slurring his words and ran from the scene, leaving a passenger behind in his car who suffered non life-threatening injuries.