NEW YORK (WABC) -- The family of Steven McDonald, now that he has been laid to rest, is speaking out about the man who inspired so many.
"This is a picture that I love," said Officer Conor McDonald, Steven's son.
A wall filled with pictures, shows just a fraction of the storied life of NYPD Detective Steven McDonald.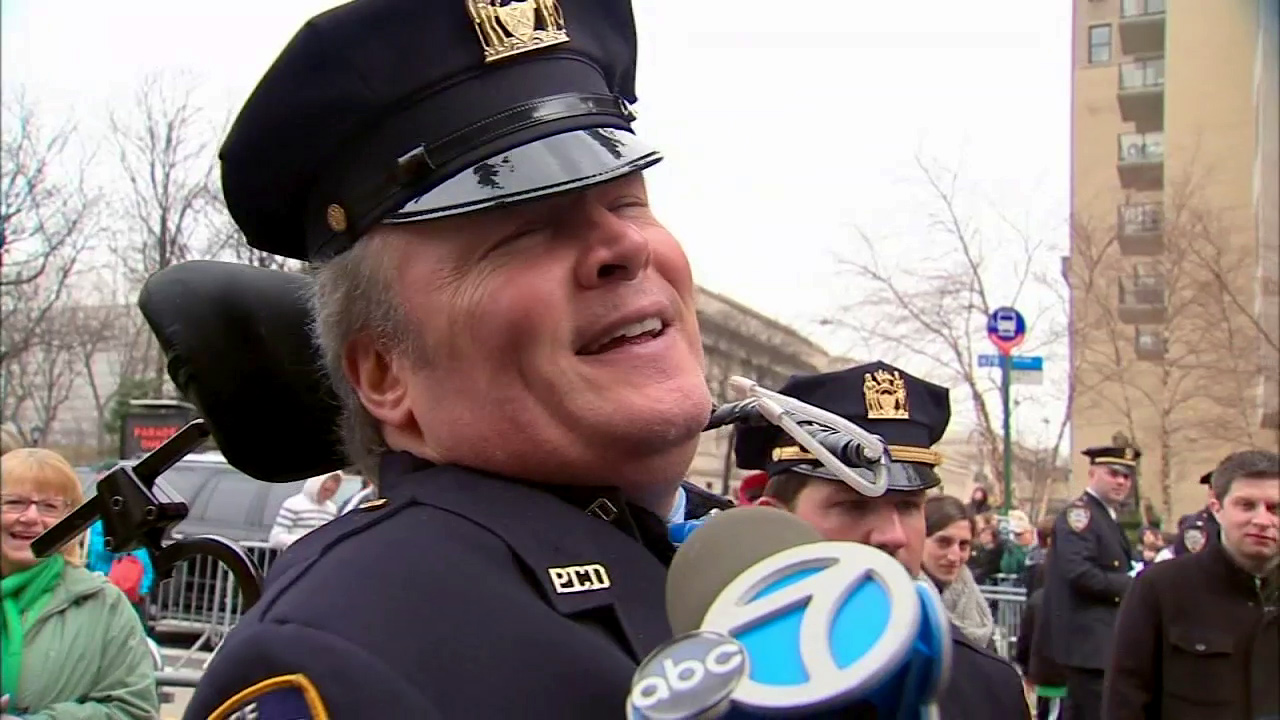 "My dad and I would rub our heads together, even though we couldn't hug," Conor said. "That's how we'd show affection
Conor grew up only knowing his dad confined to a wheelchair.
In the summer of 1986, McDonald was paralyzed after he was shot while on patrol in Central Park.
"They gave my dad three-to-five years to live," Conor said. "My dad prepared me when I became a young man; he understood life wasn't supposed to be that long after the shooting."
"We were so blessed we had the 30 years," said Patricia McDonald, Steven's widow.
Less than a year after the shooting, McDonald's faith led him to this moment.
"I want to forgive the kid that shot me," Det. McDonald said.
"When he decided, 'this would be something I forgive,' some people didn't agree with him, but he needed to in order to go on with his life," Patricia said.
"He wanted to bring his message of what happened to him and how he didn't let anger destroy his heart. He wanted to help communities," Conor said.
For decades, McDonald traveled the world preaching forgiveness.
"He drove all the way to Ohio to speak and come back home," Conor said. "He'd go to northern Ireland, Israel, Bosnia."
The impact he made on others was never clearer than in January.
On the day he was laid to rest, Conor and his mother were not alone.
"Every single overpass, every single body of water. There were people out there saluting my dad," Conor said.
"He believed the tragedy that befell him was something that happened to him for a reason: to inspire him, to inspire others," Police Commissioner James O'Neill.
"What do you think his greatest accomplishment was?" Eyewitness News asked.
"My dad and his friend marched up and down northern Ireland preaching forgiveness," Conor said.
"I want to say, I'm going to interrupt him, dad's best accomplishment was you, seriously," Patricia said.
The two McDonald men could often be found rink side at Madison Square Garden.
"When the Rangers won, my dad could walk again, when they lost don't talk to him for three weeks," Conor said.
The team would later repay that respect.
"Please rise and rather than a moment of silence, join together for a moment of cheer in celebration of Steven's amazing spirit because that's what he would have wanted from his blue shirt family," the tribute said.
There was a standing ovation for a man who despite his appearance had no limitations.
"I truly believe he's in a better place, he's not suffering anymore. He's walking, he's free," Patricia said.