NOHO, Manhattan (WABC) -- Authorities have released a sketch of a suspect in the slashing attack of a 71-year-old woman in Manhattan on Monday.
The 71-year-old commutes from Borough Park to the garment district early every morning. She's so modest, that she first told her family that she got hurt at work.
"She didn't tell me anything. She was telling the cops, that's how I found out," said Amelia Rivera, the victim's sister.
"Listen to me, me personally, I'm not afraid, I've never been afraid," said Carmen Rivera, slashing victim.
She's back on the D-train just a day after Carmen was sliced on the left side of her face. A 4-inch gash that required 20 stitches. She doesn't care to show the world.
It took a while for the older sister of the 71-year-old NoHo slashing victim to get the real story about how she ended up with a bandage on her face.
Carmen Rivera was attacked by a total stranger Monday morning on the D train, just as it approached the Broadway Lafayette station.
"He pretended that he fell on top of me and that's when he slashed my face," Carmen said.
The seamstress was headed to work in the Garment District Monday morning around 7 when police say this the randomly attacked the 71-year-old with a knife or razor blade at the Broadway-Lafayette station in NoHo.
Investigators put together a sketch of the man they are looking for.
They also released images from surveillance cameras of the suspect wearing red sweat pants and a black jacket.
From surveillance video provided by the NYPD: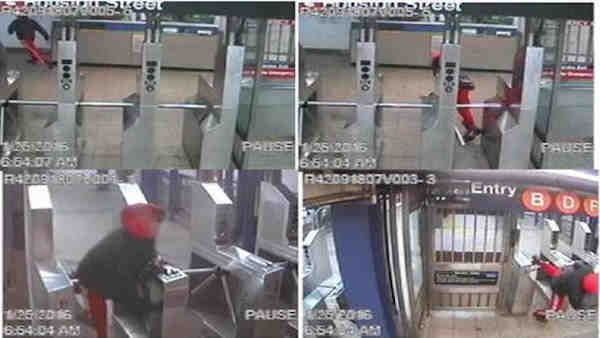 It is still unclear what kind of blade was used to slice her left cheek.
"I didn't know, because I didn't feel no pain, and he just flew out, he flew, he flew, he was flying, so they couldn't get him, they tried to get him but he was flying and I guess he got some wings under his shoes," Carmen said.
"I said, 'Let me see your cut,' and she showed me, and it was about four inches on the face," Amelia said.
"I'm just covering it. Its 20 stitches, he did a good job, kept them very close. I have no pain, thank God," Carmen said.
The suspect never said a word according to Rivera's sister. But the 71-year-old victim has a few words for the suspect if and when he's caught.
"I hope God forgive him and he should repent. Because this could destroy his life, he's a young kid maybe 17, 20 who knows," Carmen said.
The suspect is described as Hispanic, about 25, about 5 feet 10 inches and 160 pounds with a thin to medium build, brown eyes and black hair. He was last seen wearing red sweatpants, a dark colored jacket, red hoodie, multicolored sneakers.
This is the third random slashing this month. A 24-year-old woman was attacked in Chelesa on Jan. 6, and a 30-year-old social worker from Newark was assaulted two weeks ago in the East Village and had to receive 150 stitches. Arrests were made in both of those incidents.
Anyone with information on the latest case is asked to call 1-800-577-8477(TIPS). A reward of up to $2,500 is being offered for information leading to the arrest and indictment of the person responsible.