TIMES SQUARE, Manhattan (WABC) -- The costumed characters and topless women looking for tips in Times Square are now restricted to their newly appointed zones, as the NYPD began enforcing new rules at the pedestrian plazas.
The changes went into effect Tuesday that restrict the street performers dressed up as Elmo, Elsa and others to designated painted rectangles. The boundaries apply to anyone who is performing a service where there can be an exchange of money, like the street performers who for pose for pictures in hopes of tips.
It also includes vendors selling tickets to bus tours or comedy shows, and those caught out of bounds could be arrested and face a fine of up to $500 or jail time.
Characters looking for tips for pictures must stay within the blue activity zones, and the new look also includes green "chill zones" and purple "express lanes."
There are eight different areas from West 47th Street down to West 42nd, all regulated by the Department of Transportation and enforced by the NYPD.
A map lays it all out.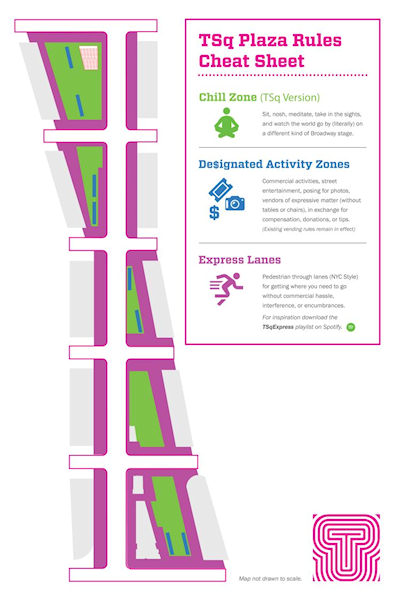 The legislation was a year in the making and comes just weeks after a 24-year-old woman was socked in the face after turning down a free hug from repeat aggressive panhandler offender.
Carmen Peles, from New Jersey, was dressed up as Elsa from "Frozen" and said she was already feeling locked up.
"Everybody agrees, we feel like we are in a jail," she said. "You spend an hour in a box and see how you feel."
Police Capt. Robert O'Hare, who heads the special Time Square unit, was out on patrol accompanied by police department lawyers as the new rules took effect.
"We're not looking to hurt people here," O'Hare said. "If there's someone who's confused, we're here for clarification as well as enforcement."
Sandy Kane, the Naked Cowgirl, lives in Manhattan. She has been playing guitar while wearing only pasties and underwear for nine years and thinks the rules are unfair.
There are really only a few troublemakers and "the police should do their job and arrest them and leave the rest of us alone," she said.
Michelle Wallin was visiting from Minneapolis and enthusiastically took a picture of her son with Elmo. As soon as the picture was snapped, Elmo pulled out a small laminated card that just said "Tips!" and presented it to Wallin, who retrieved a few coins from her purse and dropped them in the furry outstretched hand.
"I think (the designated squares) are a great idea, especially when you have kids," said Wallin. "You get the choice of whether or not you want to engage."
Around lunchtime, Titus Gandy, a protégé of the famous Naked Cowboy, stood alone in one of the teal squares wearing only underwear, boots and a cowboy hat. He says he doubts his bottom line will suffer.
"Nothing can affect my business unless they tell me I have to go home," said Gandy.
(The Associated Press contributed to this report)