NEW YORK (WABC) -- A dad's stunning toast creations are getting some attention on social media, and the reason behind his inspiring art will truly touch your heart.
Adam Perry makes breakfast for his family every day while his wife gets their two daughters, ages 9 and 13, ready for school. He doesn't have much flexibility in what he can cook, though, because his youngest daughter has severe food allergies and eats white bread with a certain sunflower oil spread every morning.
"I started to feel really sorry for her that her breakfast was so boring everyday, the same old two slices of white toast," Perry said. "So I started playing with toast to get her excited about her breakfast again and to make both the girls laugh when they came down to eat."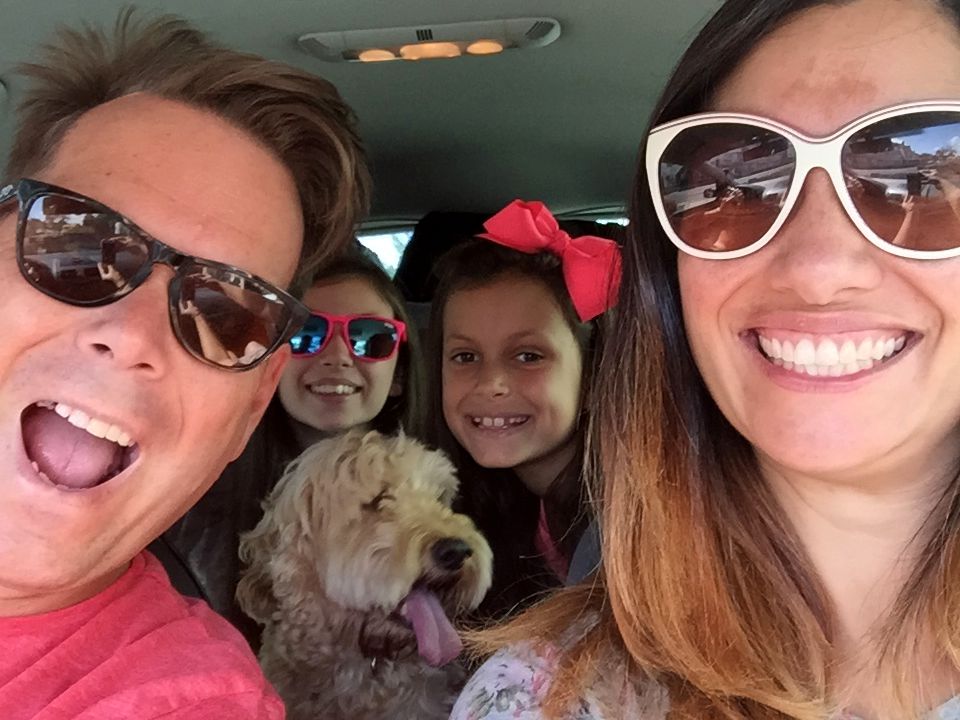 And that's when his toast creations were born -- each sculpture made of exactly two slices of toast. His effort started more than 100 days ago, and has been going ever since.
"I decided to open an Instagram account (
@2slicesoftoast
) dedicated to toast, just for fun, and vowed to my kids that I'd create something out of toast every morning for at least a year to make them smile, and that's how it started!"
His first was the London Eye (his family lives in a town outside of London, England):
And then progressed to some more robust sculptures, including two in New York City -- the Empire State Building:
And even the Brooklyn Bridge:
Perry said New York City is a special place for him.
"I've been lucky enough to visit and work in NYC many times over the years and have got to know the city really well. New York has always amazed me, I love it and the Empire State is an icon that I greatly admire, along with the Chrysler Building and the Flat Iron," he said. "New York is a city where as a visitor anything seems possible and I leave there feeling more ambitious and driven every time I visit, so it's an inspiration for me."
** Click on the video player above to see more photos of Perry's two-slice creations **
-------------------
Q&A WITH ADAM PERRY
We asked Perry some other questions via email about his project. Check out the questions and answers below:
Q. Where do you get ideas on what to make?
A.
My wife Helen (@miaslittlesister) and my kids! It's got to the stage now where I start stressing at night about what I'm going to make in the morning, and can't sleep. Often when I pop the toast down in the toaster, I still don't have any idea what I'm going to create, but by the time the toast pops up, I've usually got something in mind, but more often than not, it's my wife and kids that help with the ideas. I've tried to keep it irreverent and fun, and a wide range of interests, not just the stuff I like (music and soccer), and sometimes I'll do something that's current or in the news, but more often than not it's just a reflection of what's going on in our little bubble.
Q. How long does it take to make one of your creations, and how often do you make them?
A.
I make them everyday. It takes the time it takes the kettle to boil ( though it must be said, our kettle is old and slow, so that's a big help!) sometimes a little longer if it's a bit of a tricky build, but the idea is, get ready, turn on the kettle, get building and post it by the time the kettle has pinged!
Q. Is each creation made from just 2 slices of toast?
A.
Yes, absolutely. I butter the toast, cut the crusts off and only ever get to work with 2 slices of white bread.
Q. Some people might wonder -- do you also work? How do you find the time for this?
A.
Yes, I'm a professional musician, I'm the drummer in a well known band from PA called Bloodhound Gang, so have spent the last 18 years touring. I'm also an entrepreneur so have founded and ran a few small startups, and currently working on something huge that launches next year. But there's always time to make toast!
Q. What's your favorite creation so far?
A.
We had a great day on Sunday with friends at their beach hut (a traditional British sea side thing to do) and I made that out of toast a couple of days ago, that and the Colosseum in Rome, which I did a while ago.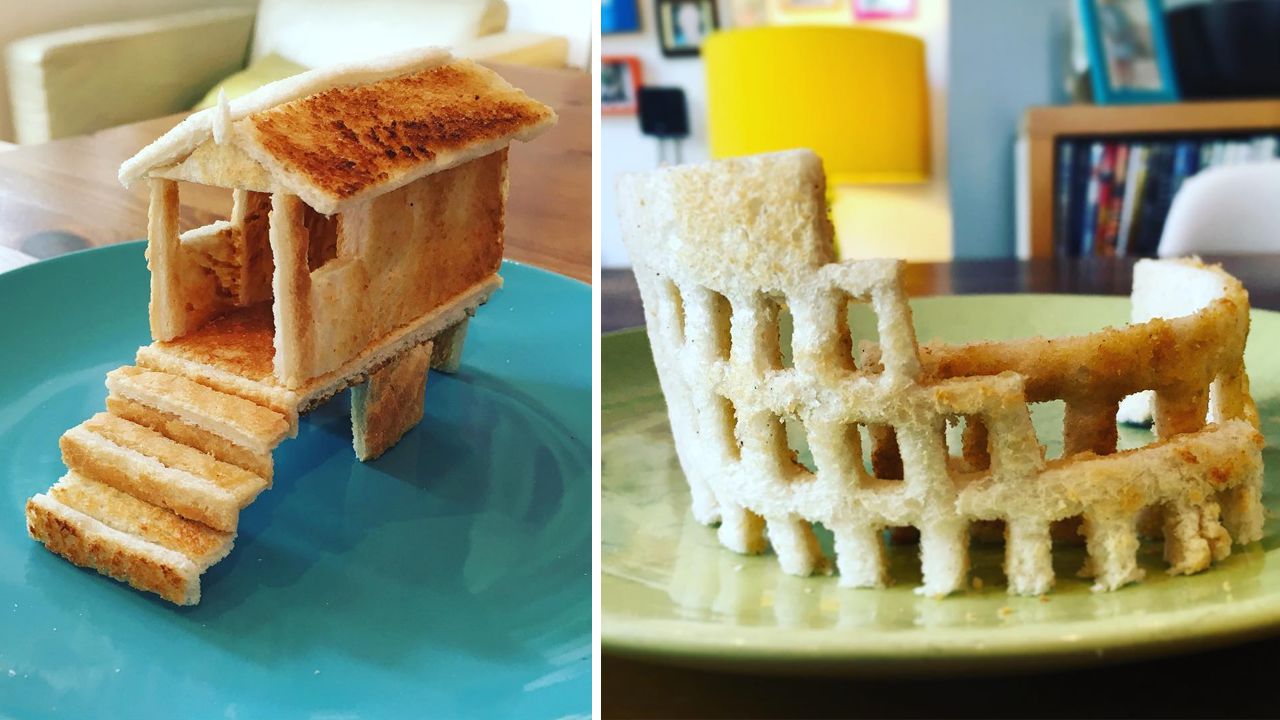 Q. How long have you been doing this? (asked July 27)
A.
I've just checked, 97 days so far, and I want to keep going for 365 so I can make a coffee table book about the year in toast!
Q. What do you do with the art after you take a photo?
A.
Eat it! Or our dog does.
Q. Anything else about your work that you'd want to share?
A.
It's just a bit of fun, but when people, comment and say it's brightened their day somehow it feels great, so I'm going to keep going and see where the toast takes me! I need suggestions though, so if anyone has any, please send them to me and I'll try to build them!
(Video produced by Jeremy Murn)