CUTCHOGUE, Long Island (WABC) -- There is a dangerous area on Long Island where limo drivers turn right out of a winery and then make legal, but highly risky, U-turns.
"It's happening, every single weekend," a resident said.
Eyewitness News saw it too.
Limos and party buses were making U-turns at the very same intersection in Cutchogue where four young women lost their lives almost a year ago.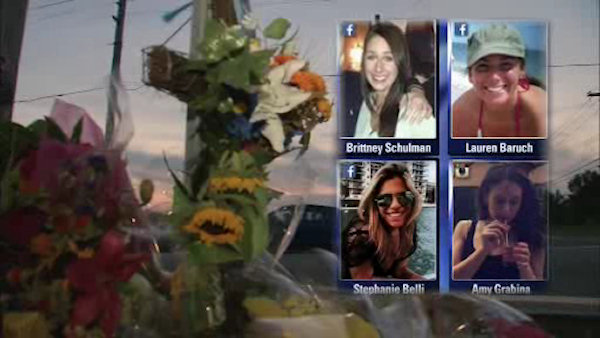 The U-turn on County Road 48 is legal, but is it safe?
Eyewitness News had our cameras rolling for three hours last Saturday, and caught eight limo's and party buses making the dangerous maneuver.
"The limo I was cut off by this Saturday cut off two lanes of traffic, they made a 3-point turn, me and another woman slammed on our brakes. We both followed them and actually talked to the driver. He seemed to know about the crash. He said it was a quick route. It wasn't illegal," said Michele Della Croce, a local resident.
Eyewitness News found that many limo's even buses leave the winery on County Road 48 heading eastbound, they then attempt to make a U-turn about a quarter mile down on Depot Lane.
Because many can't make the turn, they end up doing a 3-point turn, blocking traffic westbound, and causing drivers to slam on their breaks.
Once the U-turn is complete, the limos continue on Route 48 westbound to take passengers to other wineries.
So why not just put a no U-turn sign there? The head of Suffolk County's DPW says they studied the intersection in the 10 years leading up to last year's crash and they found no accidents as the result of someone making a U-turn there. So he says the data just didn't support it.
"A no U-turn sign would be completely ineffective and would regulate everyone who can make a U-turn at the intersection. So we don't agree that's the solution," said Gilbert Anderson, of Suffolk County DPW.
It seems the majority of limo drivers are aware of the precarious turn, turning off the road to come back around and go in the other direction.
Southold Police say they'll be beefing up patrols there and issuing summonses for failing to yield the right of way.
The president of the Long Island Limo Association says he's notified his members many times about avoiding the U-turn.
He told Eyewitness News that bottom line, there needs to be a no U-turn sign at the intersection.