HUNTS POINT, Bronx (WABC) -- A freight train derailed in the Bronx Wednesday morning, prompting a suspension of Amtrak service between New York and New Rochelle.
Service was partially restored by about 12:30 p.m., but passengers traveling through the area were advised expect residual delays as service levels return to normal.
The incident happened in the CSX Oak Point Yard in Hunts Point around 9:15 a.m., with the company saying eight cars left the tracks.
The cars that derailed were empty, and no injuries were reported, but one of Amtrak's tracks was blocked as a result.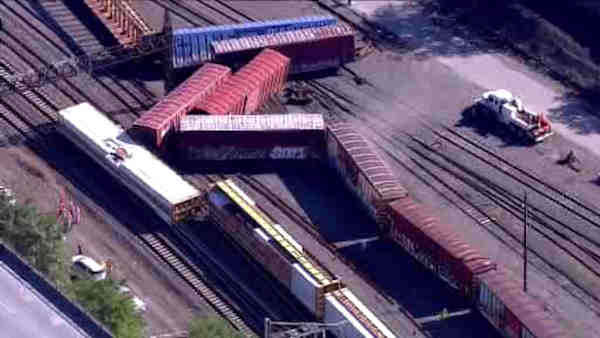 Amtrak had to inspect their infrastructure before resuming service.
Some video from the scene:
CSX released the following statement:
"At about 9:15 this morning, a CSX freight train derailed eight rail cars in the Oak Point rail yard on Longwood Avenue in the Bronx, NY. Seven of the rail cars were empty, and one car contained lumber. There were no injuries as a result of the incident, and no hazardous materials are involved. CSX has crews on scene who are developing plans to re-rail the affected cars and restore the scene of the incident for operations. CSX contractors are en route to the scene to assist in the recovery. No timetable for completing that work has been established at this time. CSX will work as quickly as safety allows to restore the area to full operations. This incident is impacting Amtrak's service on tracks adjacent to the scene. Passengers should contact Amtrak directly for the latest information about the status of service through that area. Safety is CSX's highest priority, and our goal is zero accidents. CSX will work to identify the cause of this accident as part of the recovery effort, and any lessons learned will be applied to future operations. CSX apologizes to Amtrak passengers and any others who have been inconvenienced by this event."