NEW YORK (WABC) -- New York City is announcing the new operator of expanded citywide ferry service, to begin next summer.
The new operator will take over the current East River Ferry service and add new routes as part of the new service.
This new ferry service promises to serve all five boroughs. It will be run by a company, Hornblower, already operating here.
But competitors are firing a shot across the bow.
"We are going to be restoring Citywide ferry service to this city starting next year and affect neighborhoods all over the city for the better," said Mayor Bill de Blasio.
Sporting brand new ferry boats. And serving every borough, Citywide Ferry Service will begin, city officials hope, in the summer of next year and fully operational by 2018.
"It will cost the same as a Metro Card fare and it's going to mean for many people an easier, faster commute," the mayor said.
Under a contract with Hornblower, a company already running ferry service, they will take over the existing East River Ferry service and operate a total of 21 landings, the farthest in the Rockaways.
"This is really significant for our community. Permanent ferry service is the word," said City Council member Donovan Richards.
12 of these new boats will be delivered at the the start of service, more to follow, and home ported in the Brooklyn Navy Yard.
Here's a look at the preliminary routes: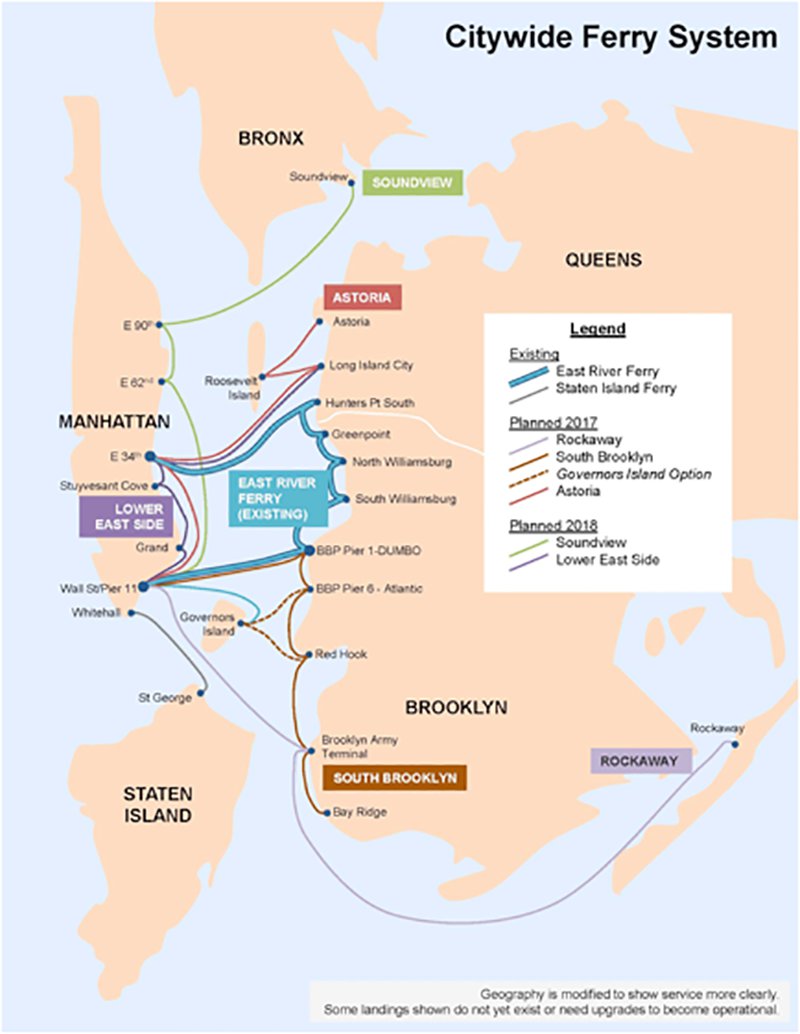 "I'd like to give a shout out to our competitors who decided to come by and help salute this occasion," said Chairman & CEO Terry MacRae.
One competitor motoring near the pier side press conference was New York Water Taxi, another ferry operator whose officials claim Citywide Ferry threatens their 15-year business.
"We simply wouldn't be able to compete with a $2.75 fare so If we are shut out of the Citywide Ferry Service, unfortunately we would be forced to shut down," said Executive Vice President Peter Ebright.
With 200 employees during the peak season, Patrick Casey and his fellow workers also worry the worst could happen.
"First and foremost, my job is on the line here," said ferry employee Patrick Casey.
"It affects everything. My housing. My two year old daughter, I have a lot at stake at this," said ferry employee Shakima Harris.
Deputy Mayor Alicia Glen counters, "We truly believe that these things can not only coexist but ultimately add to the vibrancy of the industry as a whole."
The city expects the ferry fare to drop from the current $4 to $2.75, to be in line with other modes of citywide mass transportation.
The new service will expand with new landings in Astoria, Red Hook, Sunset Park, Bay Ridge, and the Rockaways.
New York Water Taxi, which runs some East River routes, tours and an IKEA shuttle, said last week that introducing another competitor into the system will effectively put them out of business by the end of 2016.
As many as 200 jobs could be lost, according to the company.