NORTH BERGEN, New Jersey (WABC) -- A New York man has been arrested in connection with a
hit-and-run crash that killed a woman at a bus stop
in New Jersey last week.
Olvy Torres, 36, surrendered Monday on charges of leaving the scene of a fatal accident resulting in death.
Police said Olvy was driving an SUV last Tuesday (Sept. 26) at about 6:45 a.m. when he struck 59-year-old Luisa Valdes on River Road in North Bergen.
Police said he fled the scene without trying to render aid to her. She died at the scene.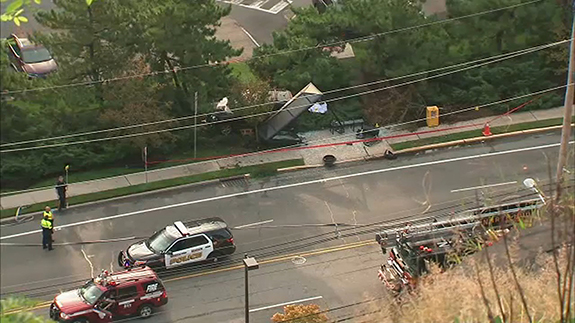 The bus stop is in front of Hackensack Meridian Health Palisades Medical Center. Authorities say Valdes, of Union City, worked at The Harborage skilled nursing facility next to the hospital.
"This suspect's identification and arrest was an excellent display of inter-agency cooperation by our three law enforcement agencies," Sheriff Frank Schillari said. "There were about two dozen officers working around the clock last week to identify and locate the driver of that vehicle."
Torres made his first court appearance Tuesday via video monitor and did not enter a plea. He's due back in court October 6 for a detention hearing.
The victim's daughter, Sandra Valdes, said she will be the strength for her family as she continues to come to grips with the fact that her mother is gone.
"If you ask anyone on her job, she was there 27 years, they would say nothing bad," she said. "She would give you her last dollar for food."
Valdes said she will be present for every court appearance, for her mom, who was a grandmother of four and who will not be around to share in the joys and accomplishments of her family.