ELIZABETH, New Jersey (WABC) -- It took seven years and $1.6 billion to raise the Bayonne Bridge to allow the world's largest ships to pass under the bridge and into the East Coast's biggest port, and all of that effort paid off Thursday.
The largest ship yet -- The CMA CGM Theodore Roosevelt -- entered the Kill van Kull and under the Verrazano Bridge just after 7 a.m. on its journey to APM Terminal in Elizabeth. It crossed under the Bayonne Bridge just before 10 a.m.
"Now that you see the ship coming through and you kind of get that sense, that feeling that yeah, it was all well worth it," Bayonne Mayor James Davis said.
WEB EXTRA: Watch raw video from NewsCopter 7 showing the ship travel under the bridge in the player below
It is the ship's maiden voyage to the United States, and the Theodore Roosevelt is the largest-capacity container ship ever to visit the Port of New York and New Jersey.
"It will supersize the economic engine in New York and New Jersey," Port Authority chairman Kevin O'Toole said.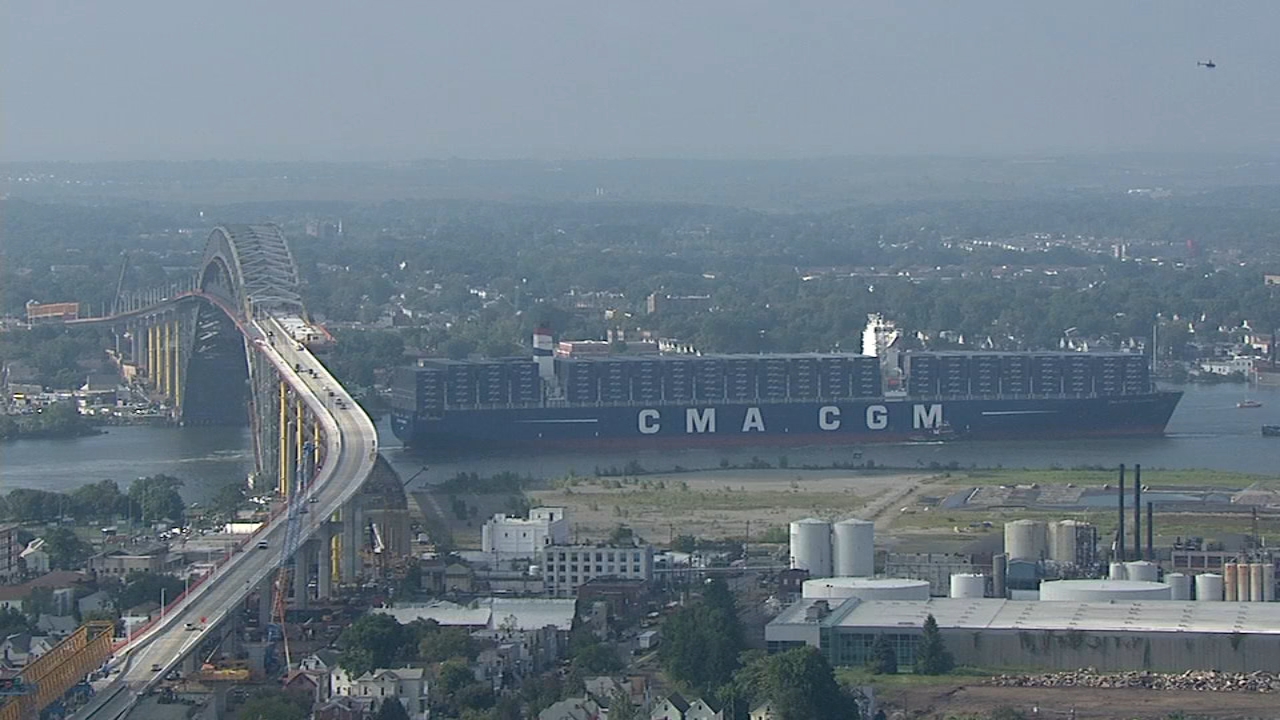 With an overall length 1,202 feet and a 161-foot beam, the ship stretches four football fields long, and has a capacity of 14,414 TCUs, or 20-foot equivalency units. That means it can carry more than 7,200 standard 40-foot shipping containers stacked above and below decks.
The Theodore Roosevelt, built in South Korea, made shipping history last month when it became the largest vessel ever to pass through the Panama Canal, which recently completed a multi-billion-dollar, decade-long expansion to allow the worlds largest container ships to carry Asian exports to the lucrative consumer markets on the East Coast of the United States.
"They are probably going to take some of the market from New England and from Norfolk," O'Toole said. "It's going to create much more opportunity."
A time-lapse video provided by the Port Authority of New York and New Jersey shows the entire dismantling process of the nearly 100-year-old Bayonne Bridge in under two minutes.