NORTH BERGEN, New Jersey (WABC) -- An SUV crashed through a New Jersey bus stop Tuesday morning in what authorities say was a fatal hit and run.
The vehicle smashed into the River Road bus stop in front of Hackensack Meridian Health Palisades Medical Center in North Bergen around 6:30 a.m., killing a female pedestrian.
The driver of the vehicle is believed to have fled the scene. The SUV remained in the debris of the bus stop, which was knocked over.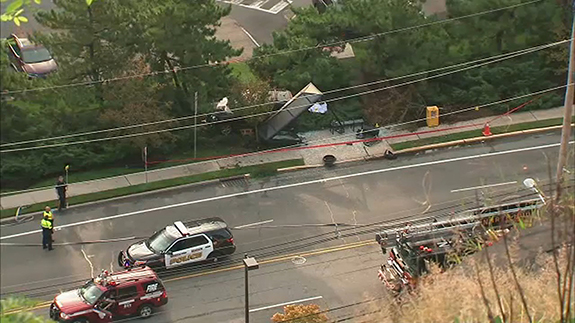 The driver apparently was alone in the SUV.
River Road was closed in both directions as traffic was detoured onto Boulevard East.
The victim's identity has not yet been released, but co-workers identified her as 59-year-old Luisa Valdez. She has reportedly been employed at Harborage Nursing Home for 27 years as a nursing assistant. Authorities said she had just walked out the building to take a break, and was sitting on the bus stop bench.
"Luisa was such a beautiful person," colleague Angel Miranda said. "She was beautiful. She used to get along with everybody. She used to be a very good friend."
She leaves behind two sons and a daughter, as well as several grandchildren.
The Hudson County Sheriff's Office, North Bergen Police Department and the Office of the Hudson County Prosecutor are investigating.