HAMILTON HEIGHTS, Manhattan (WABC) -- An NYPD officer who was charged with assault back in 2014 has been arrested again on DWI charges.
Eugune Donnelly, 29, of the 46th Precinct in the Bronx, was arrested after flipping his car in a crash that damaged several vehicles in Hamilton Heights.
First responders rescued the off-duty officer after he was trapped in his car that ended up on its side on Riverside Drive.
"You could hear it, man, it was loud," witness Al Fernandez said. "You could hear all the glass shattering, people screaming."
Witnesses say it was amazing the driver survived after the out-of-control car smashed into several parked cars just after midnight on Sunday.
The owner of one of the damaged cars spoke with Eyewitness News.
"I was looking through the window and saw everything take place," Damonie Adlam said. "He was at a red light, the light was red. Maybe he was trying to slow down and lost control of the vehicle. While it flipped, it hit two vehicles, both of them are pretty badly damaged."
The mangled parked cars with broken windows, busted doors and hanging tail lights were still sitting in the area Monday morning.
Police said Donnelly was behind the wheel, and this is not the first time he has found himself on the wrong side of the law.
The New York Post obtained video of him leaving a Bronx building moments after he allegedly attacked a woman in her apartment in 2014. Donnelly is seen running out to the street and trying to get back inside the building, only to be locked out. Prosecutors say he was drunk when he broke into that woman's apartment and repeatedly punched her. Donnelly claims he was sleepwalking.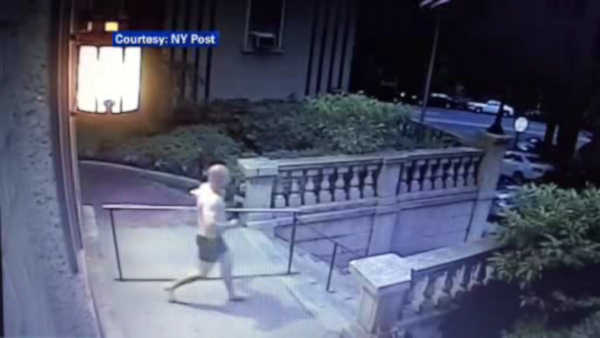 Donnelly was charged with assault and burglary in the 2014 incident. On Sunday morning, he was charged with DWI. Donnelly suffered minor injuries. No one else was hurt in the crash.
He was released on his own recognizance and is expected back in court next month.