RUTHERFORD, New Jersey (WABC) -- The spring storm that hit the Tri-State area on Sunday evening was fast and furious. Crews are still cleaning up the mess in parts of New Jersey, picking up pieces of a downed tree.
One viewer sent a picture of a downed tree in his yard in South Plainfield.
In the Bronx, the wind was just as bad. A tree came down on three cars parked along Pratt Avenue by 233rd Street, and was left tangled in live wires.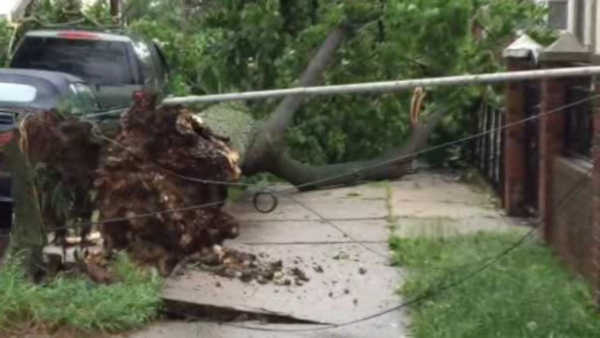 Once the clouds parted, it was a sight to behold as not one, but two rainbows arced over the Tri-State Area Thousands of Eyewitness News viewers shared their beautiful pictures.
Neptune, New JerseyManhattan:St. George, Staten Island:Long Island:
New Rochelle:TeaneckBreezy Point
Click to watch the 7-day AccuWeather forecast
and get the all the weather any time at
abc7NY.com/weather
.