WEST NEW YORK, New Jersey (WABC) -- A couple appeared in court Wednesday afternoon to face charges in a hit-and-run crash that killed a 7-year-old girl in New Jersey. This, as the girl's mother spoke out about the tragic incident for the first time.
With her world shattered, the girl's mother spoke to Eyewitness News saying her daughter deserves justice.
"I hope they pay for every they did. That there's justice," said Yeimy Coria, the Sheyla's mother.
Fabian Rodriguez was ordered held on $250,000 bail. Bail for his wife, Joanna Rosas-Alvarez, was set at $7,500. The couple has a 7-year-old son.
They faced a judge via closed circuit TV from jail.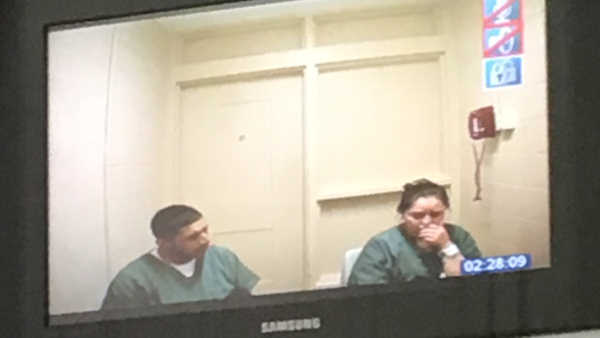 Rodriguez
is accused of driving the SUV that hit Sheyla Pichardo and her mother
as they walked to school in West New York Monday morning.
Surveillance cameras caught the crash as it happened, and authorities were able to use a partial plate to track down the suspect.
Rosas-Alvarez is charged with hindering apprehension after she allegedly reported the Chevy Tahoe stolen.
The suspects listened through a translator as the prosecutor described what role the pair played in the horrific hit and run.
Rodriguez's attorney portrayed him as a family man who cooperated with police. That storyline got quickly shot down.
"The claim that her client cooperated is probably one of the most ludicrous things I've ever heard, anything he said to police before his alibi exploded in his face was nothing more than an attempt to perpetuate the lie," said assistant prosecutor Mike D'Andre.
Authorities maintain Rodriguez, who was driving without a license, struck the pair as they crossed the street. Police say video shows Rodriguez then briefly stopped, got out of his SUV but then took off.
"He should have helped my daughter," Shayla's father said.
He said an accident is one thing, but that leaving his daughter dying, suffering, in the street is cruel and heartless.
"We know somebody got out of the vehicle and left the scene of an accident but as far as whether it was Mr. Rodriguez at this point, at this stage in the game, I can't tell you that that was him," said defense attorney Brooke Barnett.
Once he got home to Newark, police say, Rosas-Alverez then helped her husband cover up the cold blooded crime, telling police her SUV had been stolen.
Police found the vehicle parked outside of the couple's home.
"By no means is not looking to walk away from this, in Spanish she said in a matte of minutes, her whole world got turned upside down," said defense attorney Rodrigo Sanchez.
Shayla's father, Javier Pichardo,
spoke out at a news conference Tuesday, expressing his grief and thanking law enforcement officers who quickly tracked down the suspects while also showing compassion for those who took the life of his angel
.
Sheyla was a first-grade student at School #1, where counseling is now being provided to staff and students at the school. A growing makeshift memorial marks the area where the hit-and-run happened.
West New York Mayor Felix Roque visited Pichardo's family Tuesday morning to share the news of the arrests.
"They are heartbroken," he said. "I just told them that the town is behind them."
Roque said flags are flying at half staff in her memory, and that the city will handle funeral costs.