EAST FLATBUSH, Brooklyn (WABC) --
Police are searching for a gunman who got out of a car and shot two teenagers in Brooklyn, one fatally.
The NYPD released photos of the car believed to have been involved in Monday's shooting in East Flatbush.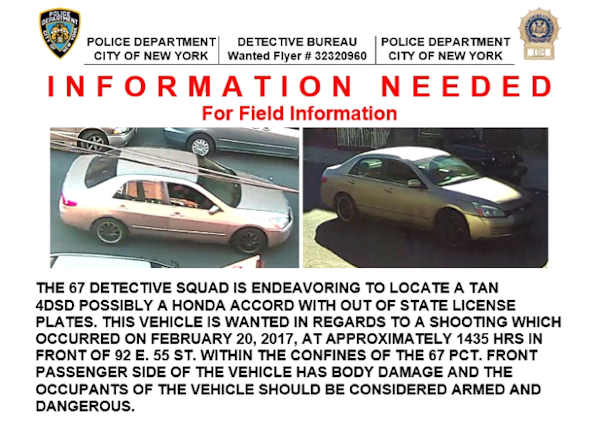 NYPD Chief of Detectives Robert Boyce said the teens, among a group of four on the street, were possibly unintended targets, or misidentified by the gunman.
Police are investigating gang violence as a motive, because they have no other motive at this time. But the teens were not the target of gang activity, according to the NYPD.
"Those four young males all lived on the block. No one had a criminal record. No one we believe was involved in gangs. They were hanging out on their own street, causing no issue," said Boyce.
Boyce said a gold colored Honda Accord pulled up near Lenox Road, and a male got out of the passenger's seat and fired at them several times with a .380 revolver.
15-year-old Rohan Levy was shot in the eye and died from his injuries.
An 18-year-old was shot in the leg, and was treated and released.
Investigators said the gunman fled in the four-door sedan driving north on East 55th Street.
The "front passenger side of the vehicle has body damage and the occupants of the vehicle should be considered armed and dangerous," police said.
The family of Rohan Levy was planning his funeral arrangements Friday. One family member told us he was hoping his cousin would pull through. But Thursday, four days after he was shot, Rohan passed away.
"Devastated, I can only imagine, I wouldn't want to be in their shoes," said neighbor Claudia Mclarty.
Adults in the neighborhood assume the kids would be safe, especially just feet away from their own front doors. But that sense of safety was shattered Monday when the four teens hanging out on the street were ambushed by gunfire.
"That's pretty much how it goes a lot of the time, bystanders, innocent victims," said Mclarty.
While the teens weren't in a gang, police believe the violence might have been triggered when one of the teens was confused for a gang member.
"One of the individuals was wearing red pants which you are allowed to do," said Boyce.
Rohan's family and friends say there will be a vigil for the teen Sunday in front of his home, just feet away from where he was shot.