EAST ELMHURST, Queens (WABC) --
Workers removed Republican vice presidential candidate Mike Pence's plane Friday morning after it overshot the runway at LaGuardia Airport Thursday night.
The chartered 737 carrying the vice presidential nominee wound up caked in mud, dozens of feet beyond the end of the runway where the plane had just landed hard.
It came to a stop at the perimeter fence around 7:40 p.m. at runway 22L. All passengers were evacuated without incident.
None of the 37 passengers and 11 crew on board were injured.
One of LaGuardia's two runways reopened soon after the incident. The other runway reopened Friday morning, but travelers still should expect residual delays. The Port Authority advised passengers flying from LaGuardia on Friday to contact carriers for flight status and cancellations.
Pence will resume his campaign schedule Friday, including a 2 p.m. rally in Bensalem, Pa., and a 5 p.m. speech in Smithfield, N.C.
Following the incident Thursday night, Gov. Pence posted a message on social media saying he and everyone else on the plane was OK:
This video shows Gov. Pence getting off the plane after the incident:
"Governor Pence and everyone on board the plane is fine. Thankfully some great work by the Port Authority and all the airport authorities, the dedicated flight attendants. There were no injuries. The Governor is obviously heading to end the evening and he'll be back out on the campaign trail tomorrow," Pence's spokesperson said.
His spokesperson also said that the governor spoke to his running mate, presidential candidate Donald Trump, just after the plane landed.
ABC News Producer Ines de LaCuetara was on board the plane at the time of the hard landing. She said in a phone interview with Eyewitness News that there were two cracks on the runway from the hard landing.
"It just felt exactly like you think it would feel. The plane was kind of wobbling, it wasn't braking, it kept going. There was a lot of noise. Things started kind of falling off chairs and from the overhead compartments. So you could tell something was wrong," de LaCuetara said.
She added that there have been other hard landings on the Pence plane, and everyone on board thought this would be like the others, until they kept moving.
Officials won't say how fast the plane was going when it ran off the end of the runway, stopping several hundred feet from the Grand Central Parkway.
A series of FAA mandated arrestor beds acted kind of like quicksand to stop it in its tracks.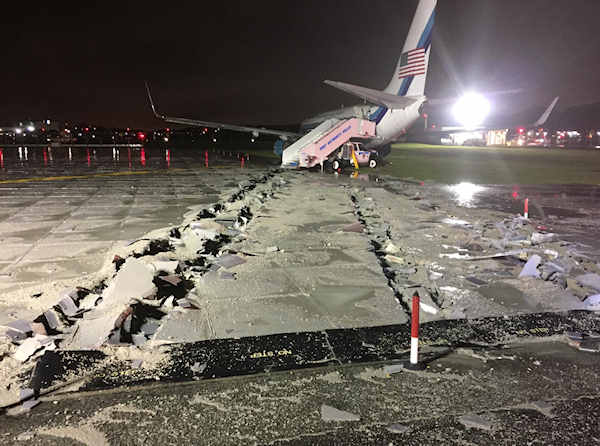 "To do exactly the purpose that they served tonight, which is to slow down an aircraft that is approaching the end of the runway...cannot speculate on the cause of the incident," said Pat Foye, Port Authority Executive Director.
It's not yet known what led to the mishap. The NTSB is investigating.