QUEENS VILLAGE, Queens (WABC) --
Police are searching for a man they say attempted to abduct a 12-year-old girl in Queens Thursday night, and the victim's mother is speaking exclusively to Eyewitness News.
The incident happened around 6:30 p.m. in the parking lot of a Key Food on Jamaica Avenue in Queens Village, and the mother and daughter were walking hand in hand.
"I saw a man approaching us," the mother said in Spanish. "He grabbed me, my daughter, and told her, 'You're coming with me.' I pulled her away from him, and he ran away."
The mother grabbed her daughter back, and the suspect fled west on Jamaica Avenue toward 212th Street.
"I said to him, 'What's wrong with you?' And he didn't really answer and I pulled her back," she said.
The girl's mother was so frightened that she didn't want her face shown on television.
"We went inside the store," the mother said. "I called my husband. He was upstairs. He came down to look for him, but he was gone. He didn't see him. We went to make a police report."
The suspect reportedly has tattoos on his face, including a cross on his forehead. He was wearing a red T-shirt, and his hair was in braids.
The NYPD released a sketch of the suspect.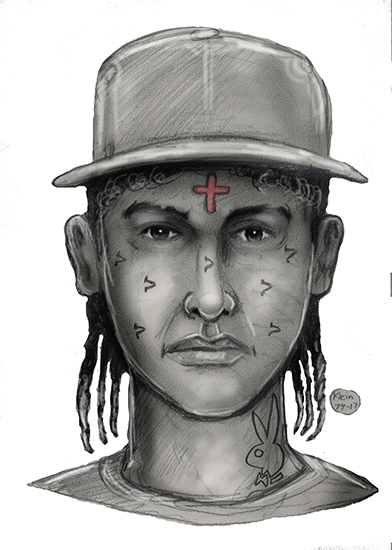 He is described as an adult Hispanic, dark complexion, approximately 5'11" tall, weighing 180 lbs., black close cut hair, scarring on his left cheek.
The 105th Precinct tweeted, "Please help us find this man before he strikes again!"
Anyone with information is urged to contact Officer Ryan Hofferman at 718-776-9252 or the Detective Borough Queens South at 718-969-5005.