NEW YORK (WABC) -- Police are searching for the head chef of a well-known restaurant in New York City.
Andrea Zamperoni, 33, was reported missing by co-workers on Monday when he didn't show up to work at Cipriani Dolci in Grand Central Terminal.
He was last seen leaving work on Saturday night at 10 p.m.
His co-workers are worried and say it is unlike him not to show up for work.
Zamperoni is originally from Italy and recently moved to New York in April. He has worked for Cipriani since 2008 at several locations.
"His mom calls, now I'm getting worried because I know Andrea is very close to his mom and brother, they talk every day," said co-worker Ignacio Albo.
There are other reasons for concern as well.
"Social media has not been touched, his phone has been off for four days," said Cipriani Dolci general manager Fernando Dallorso. "Bank cards have not been used."
Co-workers located Zamperoni's address and a roommate, who said he had gotten into an Uber at about 2:30 a.m. Sunday and had not been seen since.
Zamperoni's colleagues have been putting out flyers, hoping someone will have information on his whereabouts. His family, who is overseas, is on their way to the United States.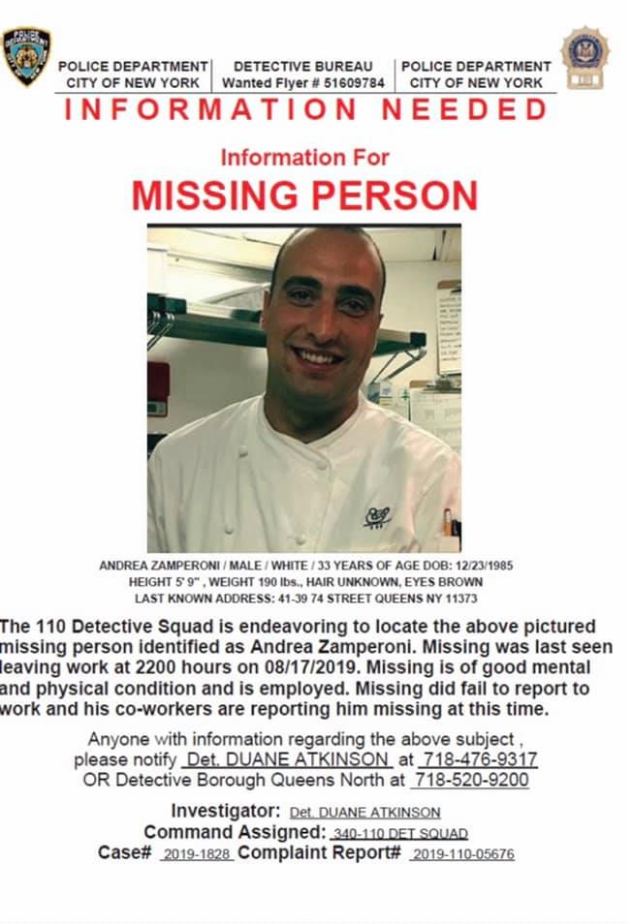 Anyone with information in regard to this incident is asked to call the NYPD's Crime Stoppers Hotline at 1-800-577-TIPS (8477).
----------
*
More Manhattan news
*
Send us a news tip
*
Download the abc7NY app for breaking news alerts
*
Follow us on YouTube
*