EDISON, New Jersey (WABC) -- The new James Monroe Elementary School in Edison reopened Tuesday morning as the elementary school that was burned to the ground rose from the ashes.
The original 50-year-old school building was destroyed by a fire started by a custodian's discarded cigarette in March 2014.
The new school was built at the same location at 7 Sharp Road.
Since the fire, students have been attending classes at the old St. Cecelia's School building in Iselin, N.J., which closed in 2012.
Police said the fire was sparked when custodian Jerome Higgins tossed an unfinished cigarette into a trash.
Higgins was issued a summons accusing him of smoking in a public building, a disorderly persons offense.
Dozens of firefighters battled the blaze for about three hours before it was brought under control.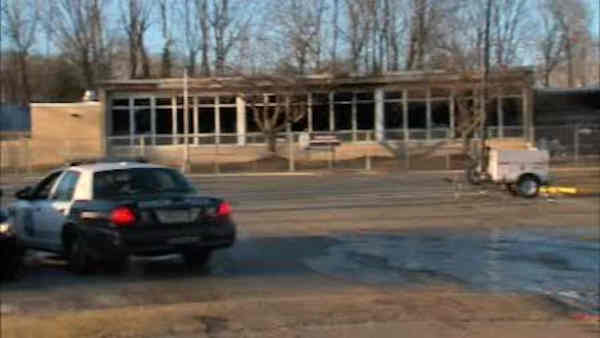 Students at James Monroe Elementary School in Edison returned to class Tuesday in their brand new building, almost three years after the fire.
The first day back from winter break was the first time they were going to class in the rebuilt school that replaces the one destroyed.
"They were so fired up this morning. They are usually in a slump after Christmas break, they are grateful for what they have." said the school's principal Lynda Zapoticzny.
On March 22, 2104, the school's custodian discarded a cigarette that was still lit. It smoldered, then ignited an inferno overnight.
Students spent the last two years learning at a shuttered school building in Iselin. Now they're back at a vastly improved school.
"We are in a gym we didn't have before," said Superintendent Richard O'Malley. "The school was 50 years old, we just went up."
There are two levels now to accommodate 450 kids. Besides the new gym, there's a cafeteria and a library. And they're grateful that a once outside wall of the old school was saved.
"When it burned my son was in the 4th grade," said one parent. "He saw everything as a little kid. It's nice to come back here."
This was a homecoming shared by the entire neighborhood and the first day back inside was a sigh of relief.