BATTERY PARK CITY, Manhattan (WABC) -- Two innocent bystanders were shot near Battery Park in Lower Manhattan Monday afternoon.
The shooting appeared to stem from an ongoing dispute between scalpers selling overpriced tickets for cruises to the Statute of Liberty.
The disagreement broke out around 3:30 p.m. Monday, on Washington Street near Battery Place, between two ticket-sellers.
The stretch of Washington Street where the shots were fired is a known location for the ticket sellers to congregate.
A 35-year-old woman was struck in the left ankle.
"I was at work and someone from the building came out and informed us that there was a shooting outside and for us not to go out because there was a shooting and the shooter was still at large," said Felix Okema, an eyewitness.
"She is my coworker, she was probably coming from her lunch break, so she happened to get hurt in the crossfire," Okema said.
A 40-year-old man was grazed in the torso, and was found by police in a car driving across the Brooklyn Bridge to Brooklyn shortly after the incident. He was treated at Long Island College Hospital.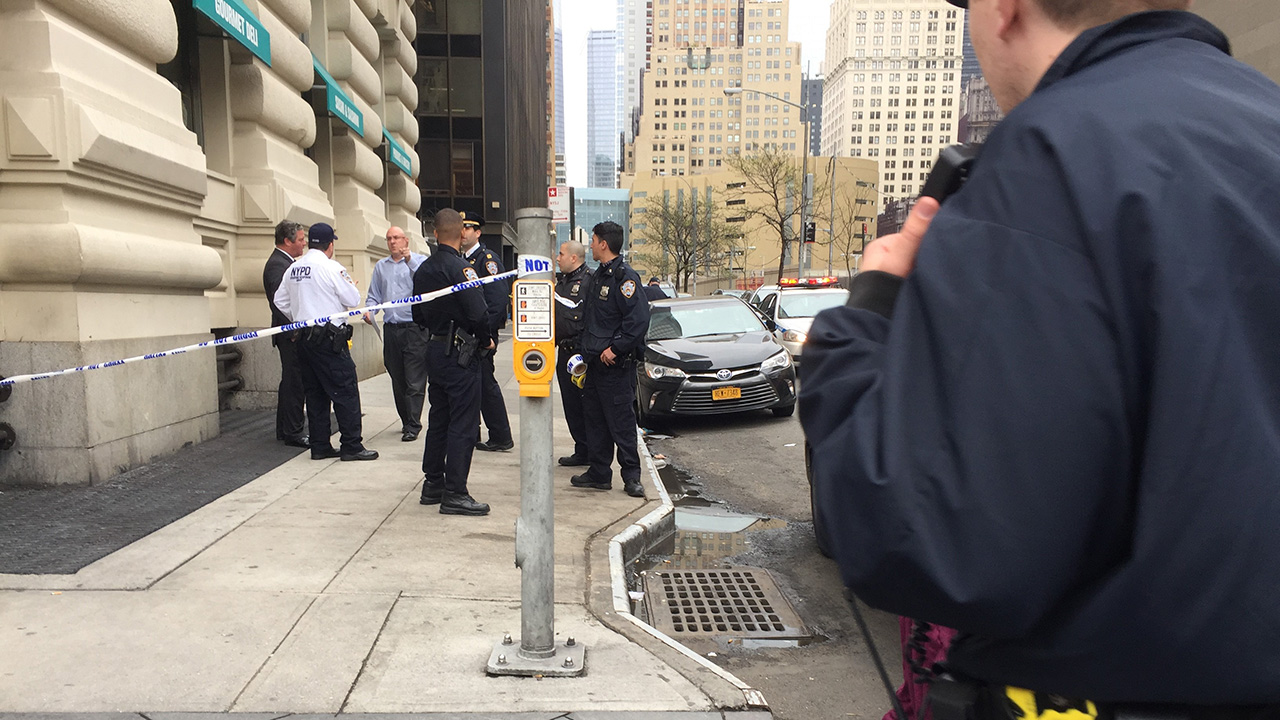 Ducking from gunfire near Battery Park, one couple found themselves in the middle of all of it. They spoke exclusively to Eyewitness News.
"I looked in the direction and my mind didn't register the first time what's happening and I heard the shot and I saw the smoke, and I was like, get low," a witness said.
"I knew how close it was just based off of the sounds and I remember thinking, 'No way, this is not happening,'" the other witness said.
Eyewitness News is not identifying the two for security reasons.
"These two males apparently had a dispute prior to the shooting, and this dispute led to these two bystanders being shot," said Chief William Aubrey, NYPD, Manhattan South Detectives.
Another eyewitness, who also does not want to be identified, said he saw the argument that led to the shooting.
"There was a few people in the argument, they went around the corner to handle the dispute because they can't argue here and the next thing you know, shots rang out," the witness said, "A group of them that were in the argument ran back this way and the gunman continued up the block," he said.
No arrests have been made in the shooting. Responding officers questioned a man they detained at the World Trade Center Memorial, but he was released with no charges filed.