NEW WINDSOR, N.Y. (WABC) -- The first-ever New York Air Show at Stewart International Airport got off the ground as a moment of silence and tributes marked the death a day earlier of a stunt pilot.
Thousands of people turned out to watch acrobatics and tour planes at the show Saturday in New Windsor, about an hour north of New York City.
Daredevils spiraled, corkscrewed and rolled through sunny skies, the same day a National Transportation Safety Board investigator arrived to examine the death of stunt pilot Andrew Wright.
On Friday, Wright, of Austin, Texas, died when his 1998 Giles G202 single-engine plane crashed in a marshy area near the airport.
Pilot Mike Wiskus of Minneapolis said Saturday that Wright was an expert and pro and that fellow pilots were praying for his family.
Then Wiskus took to the sky, circling a West Point jump team carrying an American flag as they floated to the ground at the show's start.
Wright's plane crashed Friday during practice for the New York Air Show this weekend, killing him. It happened at about 2 p.m. near Stewart airport.
"During one of the maneuvers the tail section actually came apart from the plane and it disintegrated and you could see the tail coming down," said Jim West, of ClassicWarBirds.net.
Still pictures showed the G-202 prop plane just before, and immediately after the tail fell off.
Here's a photo of the scene from NewsCopter 7: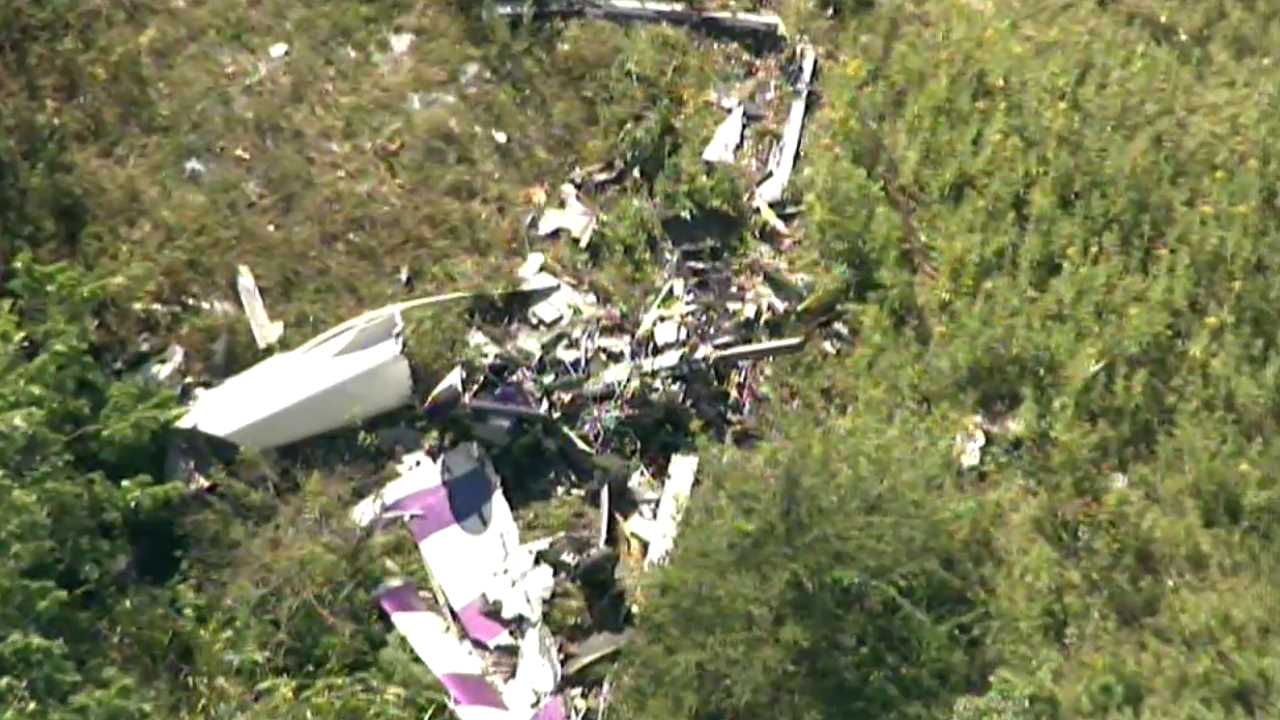 Benjamin Granucci, a photographer taking photos at the time of the crash, described what he saw on Twitter:
Other journalists here with me are saying that part of the tail broke off. #NYAScrash

— Benjamin Granucci (@BLGranucci) August 28, 2015
What I saw was the aircraft come in for a dive. As it pulled up, it suddenly crossed the crowd line and spun towards the ground.

— Benjamin Granucci (@BLGranucci) August 28, 2015
Larry Strain, an air show narrator, told the crowd Wright loved to fly.
"He loved the excitement, the thrill and adrenaline of aerobatics," Strain said.
He said Wright, a chief technology officer for a cyber-security company based in Toronto, had flown over 1,000 hours in his Giles 202 aircraft and had flown competitively and in shows since 2001.
Strain said Wright had hoped to break the Guinness Book of World Record of 81 maximum inverted flight spins.
"Our hearts go out to his wife Shireen, and all his family and friends," he said.
Cathy Bassett, a show spokeswoman, said performers Saturday dedicated their efforts to Wright and his family.
"Today's air show certainly will be flown with Andrew Wright in mind," she said.
A photographer and editor for the website nycaviation.com who captured images of the crash said it appeared the tail section of the plane was twisting off just before the crash. State police confirmed the aircraft had an apparent structural failure.
NTSB spokesman Keith Holloway said it was too early to know what caused the crash.
The Associated Press contributed to this report.