MIDTOWN, Manhattan (WABC) -- President Donald Trump's visit to Trump Tower in Manhattan for the first time since his inauguration was greeted with protests.
Three people were arrested on charges including reckless endangerment and resisting arrest as a throng of demonstrators gathered near Trump Tower for Trump's return.
The president's motorcade pulled up to Trump Tower on Monday night, approaching from a direction that bypassed the thousands of protesters and a far smaller group of supporters awaiting him.
The protesters carried signs with such messages as "impeach" and "stop the hate, stop the lies." Supporters say "God bless President Trump."
Security is heavy around the skyscraper. Police have stationed sand-filled sanitation trucks as barriers around the building and layers of metal police barricades around the main entrance.
Demonstrators stood in pens that police erected across the street from Trump Tower in Manhattan and lined nearby blocks of Fifth Avenue by early Monday evening, hours before his expected arrival.
Some carried signs with such messages as "no hate" or "impeach" as chants of "black lives matter" and "love, not hate - that's what makes America great" rose above traffic noise.
Nearby, an inflatable, rat-like caricature of Trump stood by The Plaza hotel.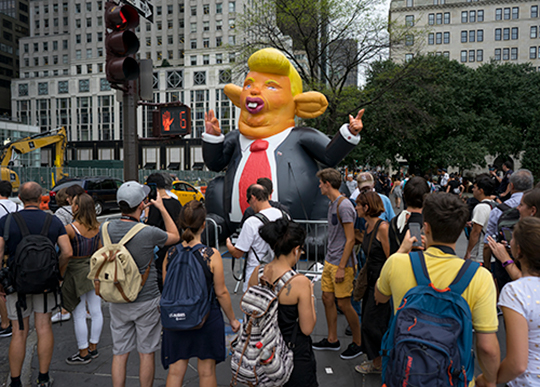 Police spent the day trying to steer protesters into adjacent streets so they could protect Trump Tower.
City Council Speaker Melissa Mark-Viverito, a Democrat, was among the protesters.
Meanwhile, about two dozen Trump fans near The Plaza chanted "God bless President Trump" and carried American flags and signs with such sentiments as "now is not the time for divisiveness."
"We are here to show President Trump ... that he has a lot of fans here, even in liberal New York City, even in Manhattan," said Ariel Kohane, a 46-year-old member of a group called Jews for Trump.
He said he supported the president because of his views on national security, immigration and fighting radical Islamists and crime, among other issues. The anti-Trump protesters, to him, are "left-wing, liberal Communist snowflakes."
The president has been under fire, even taking heat from within his own party for failing to call out the white supremacists in Charlottesville.
The White House tried to clean up some of that fallout, but the president himself
remained silent until Monday, when he condemned the KKK and neo-Nazis
as "thugs."
The
other side showed up at Trump Tower on Sunday
, and they were anything but silent.
Protesters started out at Columbus Circle, marching through Times Square and to Trump Tower. A few hours later, several different groups converged on President Trump's home.
A couple hundred flanked Trump Tower on the north and the south. The events that took place in Charlottesville fueled their anger and disgust.
RELATED: List of street closures during President Trump's stay in NYC

(The Associated Press contributed to this report.)