NEW YORK (WABC) -- Security around the New York area remains stepped up Monday in the wake of the deadly attacks in Paris, and Mayor Bill de Blasio and NYPD Commissioner William Bratton announced the first deployment of a new counter-terrorism unit.
About 100 officers are part of the NYPD's Critical Response Command (CRC), which will conduct daily deployments at critical infrastructure and sensitive locations throughout the city.
"We operate under the assumption if we have one of these attacks, their intention is to kill everybody that they get their hands on," Bratton said. "So will move very quickly to move in to stop that threat...They have been trained and will receive continuous expanding training on dealing with active shooter scenarios, such as we recently witnessed in Paris."
The officers, who all volunteered for this dangerous duty and are hand-picked, will number 560 by the end of this year and replace rotating assignments of officers. They are heavily armed and trained in specialized weapons and tactics to counter a new type of threat.
"You are, in fact, the best of the best against terrorism," de Blasio said. "You are now part of the front line of this city's defense against terrorism."
The officers of the CVC moved out in a fleet of cars and vans from their new headquarters on Randall's Island. They are trained to meet the changing face of terrorism.
"We look at that, we analyze that, and then we translate that and turn that into training," CRV commander Chief James Walters said.
Bratton also said Monday the department will be sending a team to Paris later this week to learn more about how the attacks were carried out.
"The idea that all of them were equipped with these suicide vests, which are of great concern if you're asking your officers to rush in, which is the tactic here in America now in responding to the active shooter scenario," Bratton said. "We'll want to know the ballistic capabilities of those vests, how far do those projectiles spew out?"
Increased security efforts in the city include Times Square, where armored trucks are out for all to see and heavily-armed officers stood guard at the armed forces recruiting center.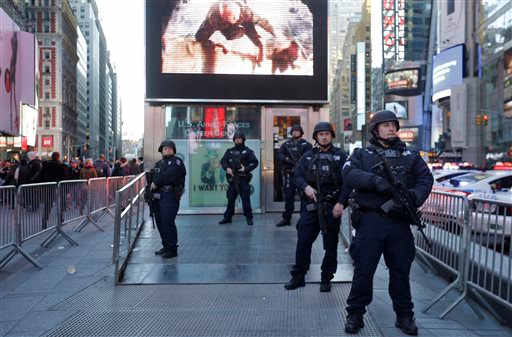 Police are asking New Yorkers to be patient and vigilant. City officials say more than 20 attacks have been thwarted since 9/11.
"Get the information and get them before they get us, we've been very successful at that," Bratton said. "But they're coming at us much more frequently. But at the same time, we have to be prepared to defend for when an attack occurs."
Additional officers are posted outside the French Consulate, where a memorial continues to grow.
Officers with radiation detectors and bomb-detecting equipment were sent to subway stations, where they randomly conducted bag checks.
"This is not the kind of thing that is a wakeup call to New York City," deputy commissioner for intelligence and counterterrorism John Miller said of the attacks, which left at least 129 people dead and 352 injured. "We've been awake about this for a long time."
The state's Homeland Security and Preparedness Office on Monday says there are no specific, credible threats in the state. However, law enforcement remains on heightened alert out of an abundance of caution.