ELMWOOD PARK, New Jersey (WABC) -- A 6-year-old boy was attacked by a raccoon in New Jersey Wednesday morning.
Elmwood Park Police Chief Michael Foligno said the police received a call at 8:41 a.m. regarding a woman screaming. When officers arrived on 16th Avenue near the Boulevard intersection, they found the young child who had been attacked.
Shannon Lampert made that 911 call after seeing the disturbing attack.
"The boy was bleeding," she said. "It looked like it bit under his eye and bit the side of his face. I just called police."
The child, Aryan Gavali, who was walking to school with his mother, was taken to Hackensack Medical Center with deep facial lacerations, including one by his right eye.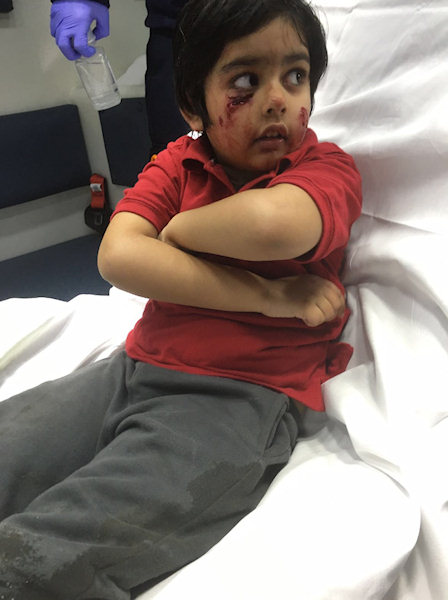 Witnesses say the raccoon ran up from behind, jumped on Aryan, latched onto his face and began biting and scratching him. Danny Walls, a good Samaritan who was driving by, jumped into action.
"I'm coming around the corner from the gas station, I see this lady acting really hysterical," he said. "She's jumping around, she's like 'somebody help me, somebody help me.' I thought she was crazy because I didn't see anything, snow was piled all the way up. When I kinda drove up, maybe about five or six feet away from her, I seen this huge raccoon on top of the kid, and I could see his red jacket."
Walls exited the car with a fiberglass painter's pole and began to strike the raccoon until it released its grip on the child.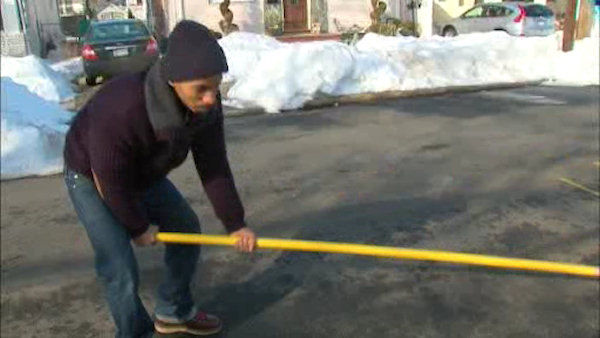 "I kinda shoved the raccoon," he said. "Once I shoved him, I seen there was a little space between him and the kid, but I could see that the raccoon was still clawed on the kid's face and he's biting the kid's face. So I had imagined that that was my son, you know, instinctively, it took over. And I just knew that I had to kill the raccoon."
He continued to hit the animal until it died.
"I grabbed my gloves, jumped out the truck, and ran over there to help, and he started hitting the raccoon," said Stephen Smith, a witness. "I think more people should've stopped, lucky that guy was in the area."
"I don't know if he has rabies, I don't know what's going on," Walls said. "I wanted to protect the mother and the son."
His wife happened to notice a commotion outside and thought a man was attacking a woman. When she came outside, she realized it was her husband swatting at the raccoon.
"He said that after it got off of him, he just kept hitting it because he didn't want to attack someone else," Diana Walls said.
Police and other authorities responded to the scene, and Aryan was rushed to the hospital with serious injuries.
"He was traumatized, he had cuts and bruises all over his face on both sides," Walls said. "You can clearly see that he was attacked by an animal."
Aryan was released from Hackensack University Medical Center on Thursday after receiving antibiotics.
Bergen County Animal Control removed the raccoon to conduct rabies testing. Those test results are expected by later this week.