CYPRESS HILLS, Brooklyn (WABC) -- Nine people, including seven firefighters, were injured in a fast-moving six-alarm fire that ripped through a row of homes in Cypress Hills, Brooklyn Sunday night.
Take a look at this video captured by an Eyewitness News viewer:
The massive fire displaced more than a dozen people and also damaged a church.
More than 200 firefighters responded after flames originally broke out just before 6:30 in a three-story residential home on Arlington Avenue between Elton and Linwood streets. The fire then spread to five houses and a nearby church.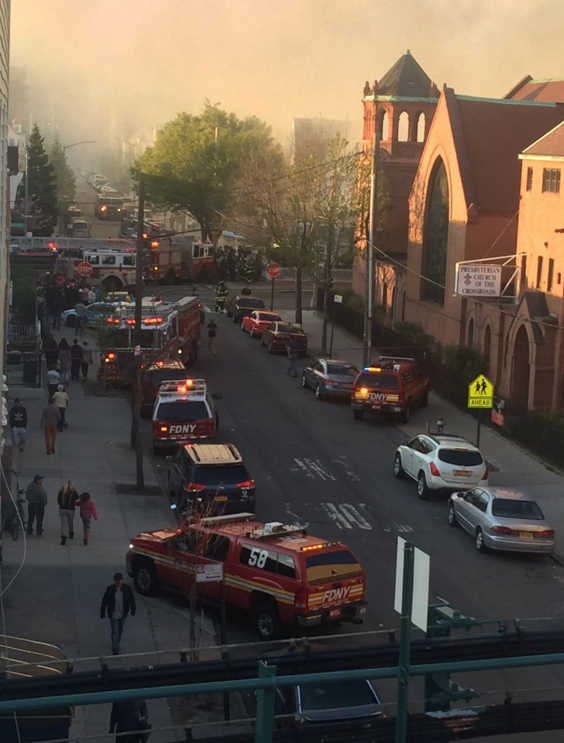 Credit: @donette_angel/Twitter
A large stained glass window at the Arlington Avenue Presbyterian Church, at 266 Arlington Avenue, sustained damage due to the fire.
But firefighters stopped the flames from further damaging the church.
"The story is we saved that church," an official with FDNY said.
The second and third floor of the building at 270 Arlington Avenue, where the fire is believed to have started, collapsed. Firefighters will search the building for possible other victims, but there are no reports of any people missing.
Three buildings have been completely destroyed while two others are badly damaged. The initial 911 call came from the church when people inside smelled smoke.
"I was in the hair salon, and they called me and told me my house was on fire. My blood pressure went up. All my family members got out. I olive on the top floor alone, and everything I had was destroyed," said one resident.
Despite the devastation and loss, the families affected were left grateful that they did not lose each other.
The exterior of the nearby church was damaged by fire, but because firefighters were able to extinguish it right away, the exterior was not damaged. All of the homes involved in the fire are wood-frame homes.
The Red Cross was working to find housing for the displaced residents.
FDNY fire marshals say the fire was caused by repair work involving a torch on a garage roof.
The Department of Buildings has issued a vacate order for 268, 270, and 272 Arlington Avenue, which are all private dwellings. DOB is in the process of tracking down the owners of those buildings.