JERSEY CITY, New Jersey -- Anguished over his daughter's overdose death, John Cramsey became a crusader against the heroin crisis in Pennsylvania's Lehigh Valley, starting a group for concerned parents and recovering addicts and going on self-described missions to save young people from the scourge of addiction.
"I have yet to grieve like I should as a normal person...Right now I'm on a mission, I can't stop," Cramsey said at an Allentown drug awareness gathering in March. "I'm the inoculation to this disease. I'm going to make a damn difference. Enough is enough."
Cramsey posted on Facebook early Tuesday that he was heading to New York to "rescue" a 16-year-old girl involved with drugs. As his neon-painted pickup truck emblazoned with logos from the gun range he operates prepared to enter the Holland Tunnel in Jersey City, a police officer noticed a crack on the windshield and stopped it, according to a criminal complaint. Police say they uncovered a cache of weapons including semi-automatic military-style rifle, a shotgun and five handguns.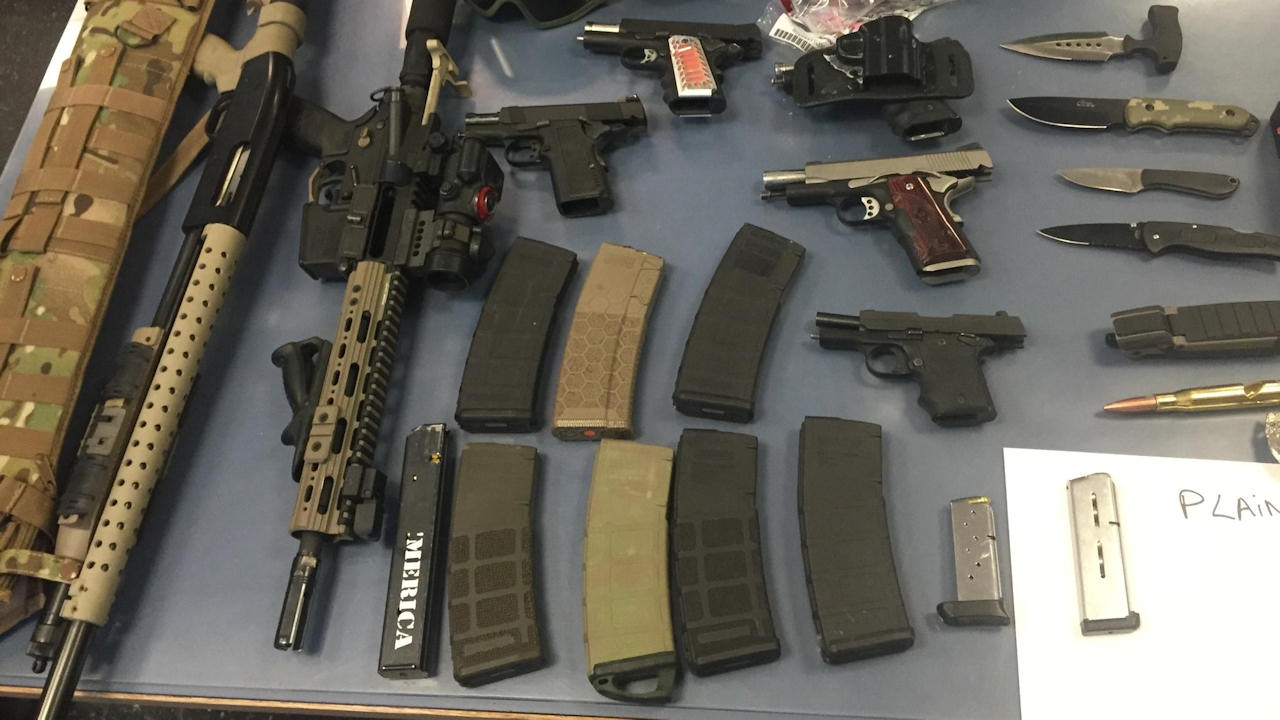 Cramsey and the two other Pennsylvania residents in the truck - Dean Smith, 53, of Whitehall, and Kimberly Arendt, 29, of Lehighton - pleaded not guilty Wednesday to multiple weapons charges. They also pleaded not guilty to drug charges for a small amount of marijuana and drug paraphernalia police say they found in the pickup.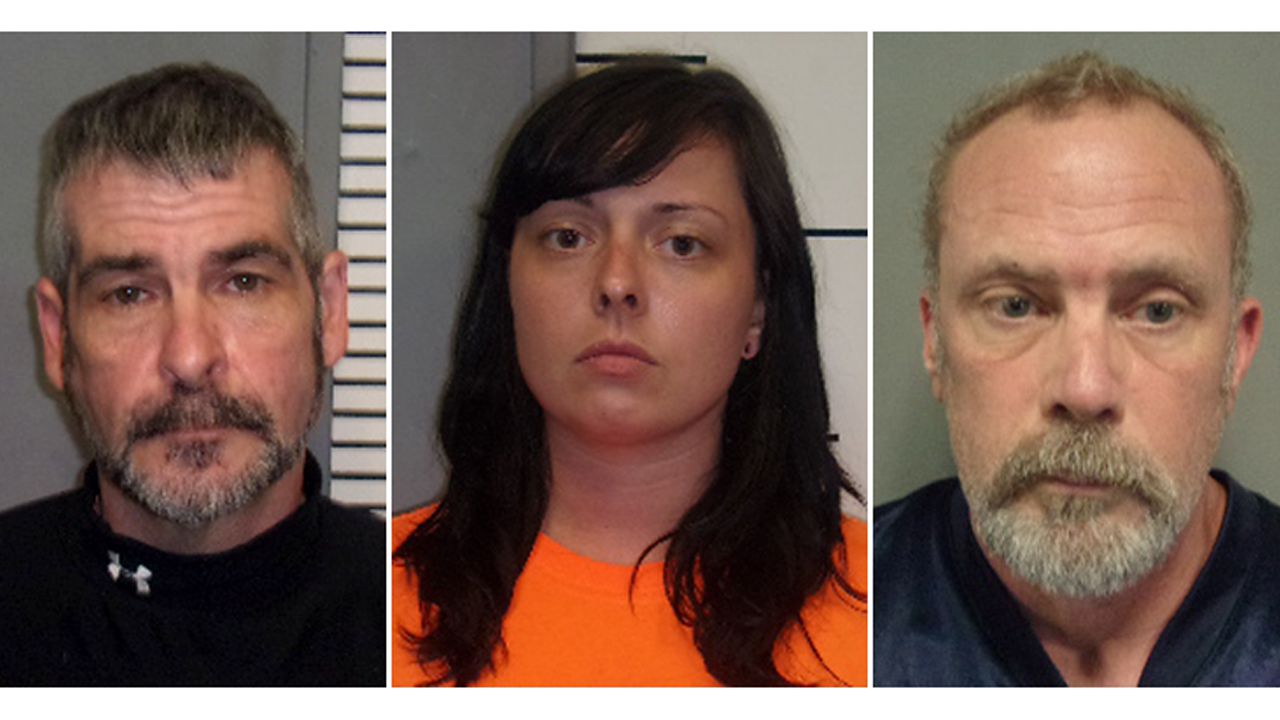 Left to right: John Cramsey, 50; Kimberly Arendt, 29; Dean Smith, 53
Attorneys for the three said Wednesday the search was illegal and they will seek to have the evidence suppressed. A Hudson County judge declined to give them the option of paying 10 percent of their $75,000 cash bail.
"The police officers said they stopped them because they saw a crack in the windshield, but clearly that's not what happened," James Lisa, Cramsey's attorney, said after Wednesday's arraignment. "They saw all the decals and the painting basically espousing their Second Amendment rights and that's why they stopped them."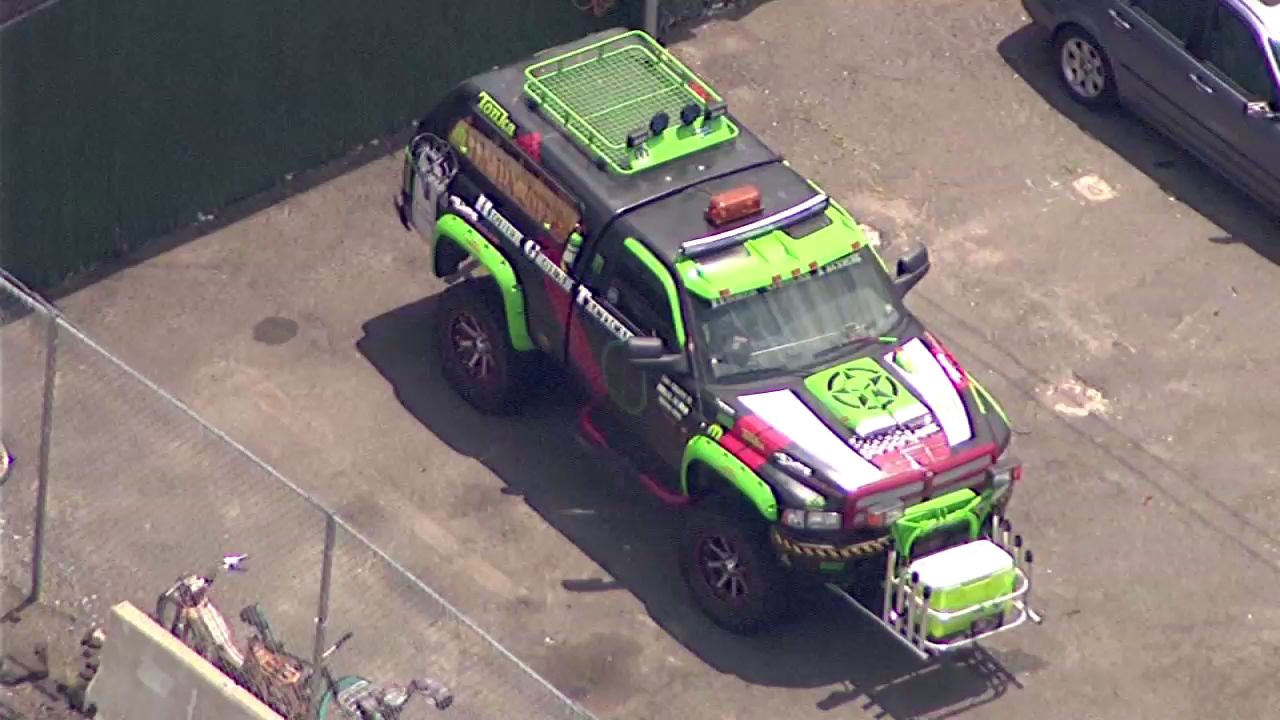 The three defendants appeared at the arraignment through a video link with the Hudson County jail, where they are being held. Lisa and fellow defense attorneys Mario Blanch and Amanda Hickey all argued for an easing of the bail terms.
Hudson County Assistant Prosecutor Tom Zuppa took issue with the defense lawyers' characterization of the case as "just another gun possession case" being blown out of proportion due to the publicity it has generated.
"Despite counsel's attempt to minimize these charges, this is not just an ordinary gun case," he said. "This conduct had the potential to bring danger to the destination of these defendants."
New Jersey has tougher gun regulations than Pennsylvania and requires guns to be unloaded and inaccessible while driving.
The arrest has friends and fellow members of Cramsey's "Enough is Enough" anti-drug group in the Allentown area reeling. They are holding out hope Cramsey can beat the charges and return to the fight he started after his daughter, a 20-year-old model, was found dead of an overdose in February.
Lyn Baker, who started the group with Cramsey, told The Associated Press on Wednesday the group has helped dozens of drug addicts, including going to hotels and homes to help.
Cramsey has posted on Facebook about his work helping young drug addicts, including pictures of himself wearing bulletproof vests and with guns. Baker said Cramsey "likes to talk a big game because the adrenaline is always rushing after we bring someone back."
She said she thought Cramsey had been growing depressed and withdrawn recently.
"Particularly when it comes to rescuing females, to him it's like rescuing his daughter," Baker said. "He's just adamant that I have to make every attempt to get this person help."
She said Arendt, the girl's former counselor, received a call from the girl seeking help on Monday. Cramsey wrote on Smith's Facebook page early Tuesday morning that he was driving to New York to "do an extraction" of a 16-year-old girl after an issue involving drugs. Smith replied, "I'm there."
Baker said she spoke with Cramsey around 7:30 a.m. Tuesday as he was getting ready to go through the tunnel and that he asked her to start arranging for the girl to get into a detox or rehabilitation facility.
Minutes later, Port Authority of New York and New Jersey police reported they pulled over the vehicle.
Police said they recovered the weapons, high capacity magazines and other ammunition, two tactical vests and three helmets, according to the complaint. It was unclear what, if anything, the weapons had to do with their plans.
A Port Authority photo also showed a box with the phrase "Shoot Your Local Heroin Dealer" in the vehicle.