NEW YORK (WABC) -- Friends, family and fellow officers gathered Thursday to bid a final farewell to a New York City police sergeant killed last week in the line of duty.
An estimated 15,000 police officers from around the country were on hand to pay tribute to Sgt. Paul Tuozzolo at the funeral services in Massapequa.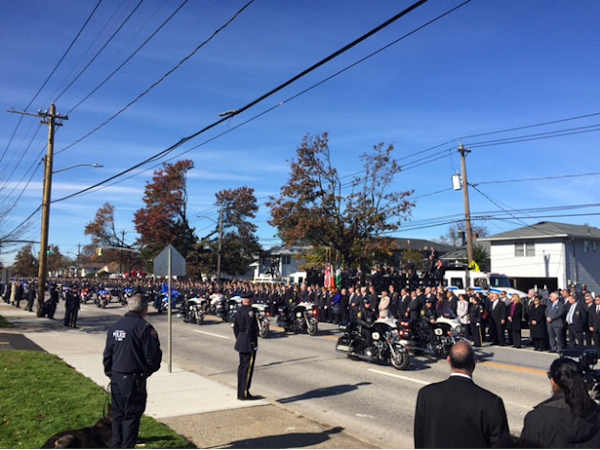 Tuozzolo
was fatally shot in the head in an exchange of gunfire
Friday with an armed man on a Bronx street. The encounter unfolded after the gunman, Manuel Rosales, broke into his estranged wife's home.
Sgt. Tuozzolo was posthumously promoted to "Sergeant Special-Assignment" by NYPD Commissioner James O'Neill at the funeral, prompting a standing ovation.
"Sergeant Paul Tuozzolo was everything we could ever wish for in an officer: conscientious, hard-working, selfless, courageous, driven to protect," said O'Neill. "Paul protected all New Yorkers, and he died while keeping people safe."
Tuozzolo's wife, Lisa, and their two young sons, Austin and Joseph, walked alongside the flag-draped casket. Fellow officers served as pallbearers.
Schools were closed Thursday in Massapequa. So many parents brought their kids to the funeral so they could see the sacrifice police officers make.
"We're here to respect the police officers and pay our respects," said one of the youngsters, Nick Hink.
On Wednesday, a steady stream of mourners filed into Frederick J. Chapey & Sons Funeral Home in Bethpage. His wife and family were among them. His family also includes his police brotherhood from the 43rd Precinct in the Bronx where he worked.
"He was just a great guy," Tuozzolo's former coworker James Hasper said. "If you were in a bad mood, he could make you laugh. He would put a great smile on your face."
Various dignitaries also came to pay their respects Wednesday, including Rep. Peter King, former NYPD Commissioner Bill Bratton, and current NYPD Commissioner James O'Neill.
"We're out here today to support the family," a mourner said.
The funeral
for Tuozzolo began at 11 a.m. at St. Rose of Lima Church in Massapequa.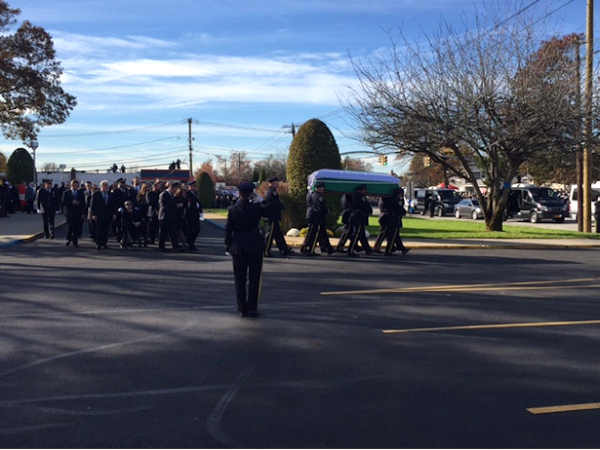 He and his wife were raising two sons in Huntington. Tuozzolo, who was 41, would have been eligible to retire next year.
He is the fifth NYPD officer to be fatally shot in the line of duty in the last two years.
Sgt. Emmanuel Kwo, who suffered a leg wound, is now home from the hospital.
The Associated Press contributed to this report.