SAN BERNARDINO, California -- San Bernardino shooters Syed Farook and Tashfeen Malik were both radicalized before they met online and started dating, FBI Director James Comey said Wednesday during testimony on Capitol Hill.
Comey said they were talking about jihad and martyrdom before they became engaged and started living together, which means they were radicalized as early as the end of 2013. The couple wed last year.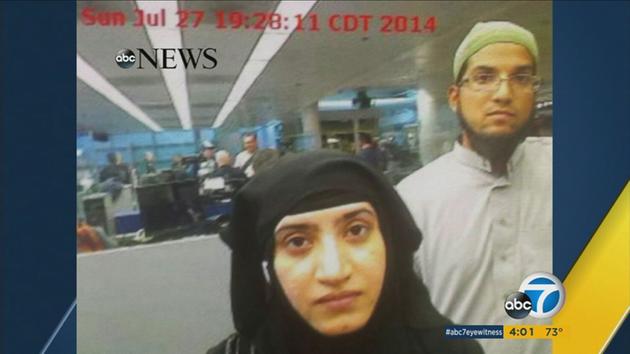 The San Bernardino mass shooting suspects, Syed Rizwan Farook and Tashfeen Malik, seen in a photo obtained exclusively by ABC News entering the U.S.
U.S. officials previously said that Farook, a U.S. citizen originally from Chicago, traveled to Saudi Arabia in July 2014 and returned less than two weeks later with Malik in tow. Malik arrived in the U.S. on a Pakistani passport and a fiancee visa.
Comey said the couple was inspired by foreign terror organizations.
"We're working very hard to understand exactly their association and the source of their inspiration," Comey said. "We're also working very hard to understand whether there was anybody else involved with assisting them, with supporting them, with equipping them. And we're working very, very hard to understand, did they have other plans? Either for that day or earlier, and that work continues."
Wednesday marks one week since the deadly terror attack at Inland Regional Center in San Bernardino that left 14 people dead and 21 others injured.
MORE: Here are the faces of those killed in the San Bernardino shooting
Two ceremonies are scheduled to honor those who lost their lives at the hands of Farook and Malik.
A moment of silence is set to be held at San Bernardino Valley College at 11 a.m, and a vigil is also scheduled to be held at Water of Life Community Church in Fontana at 5:30 p.m.
Meanwhile, Farook's mother has been placed on the FBI's terrorist watch list. His 66-year-old father was placed on that list two days ago. Authorities say this is a precautionary measure to make sure Farook's parents don't leave the country.
Federal investigators are also trying to determine a money trail for funding of the San Bernardino mass shooting. About $28,000 was deposited into Farook's account shortly before he and his wife carried out the attack on Dec. 2. The money could have possibly come from an online lending company, authorities said.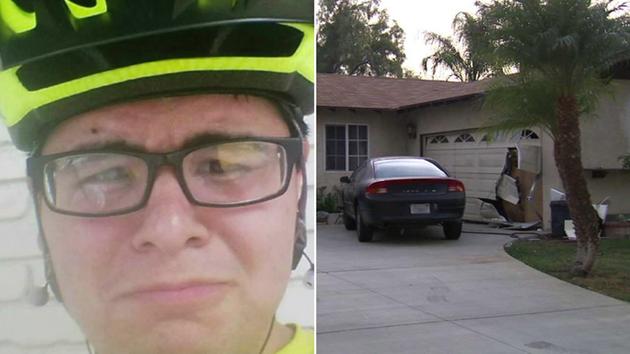 Enrique Marquez is shown alongside images of his Riverside home that was raided. (KABC)
Farook's former neighbor, Enrique Marquez, may face criminal gun charges. Federal authorities believe Marquez purchased two of the four weapons used in the attack because Farook didn't want his name on file in connection with the assault rifles.
Marquez has since checked himself into a mental facility.
Two buildings at the Inland Regional Center will remain shut down until 2016. Building 3, which is where the mass shooting took place, has been closed indefinitely.