WASHINGTON HEIGHTS, Manhattan (WABC) -- Crews are on the scene of a huge sinkhole that opened Monday morning on a street in Washington Heights.
It happened at West 167th Street at Edgecombe Avenue and Amsterdam Avenue.
Con Ed says the sinkhole was caused by a water main break, and the main was shut off as repair work continues. One building was left without water.
The sinkhole spans approximately 20 feet by 30 feet and was over 6 feet deep.
Two cars had to be removed by tow trucks.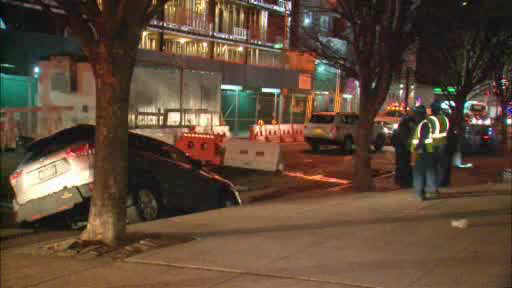 The owner of one of the cars was in town visiting his mother and didn't know what was happening until he turned on the TV.
"I was sitting watching Eyewitness News, Channel 7 and I saw the car," Hector Gorge said. "I said that pretty much looks like my vehicle. Then I recognized the street, and here I am."
George made his way to the street just as his car was saved from falling further into the growing sinkhole.
P.S. 8 is located on the corner of Amsterdam Avenue and West 167th Street, leaving parents concerned.
"We are out here worrying about our kids, you know the school could've been up under that hole," parent Viola Jones said.
Edgecombe Avenue was closed from West 165th Street to West 170th Street.
No injuries or evacuations have been reported.