EMERSON HILL, Staten Island (WABC) -- A simple school project has grabbed the attention of a Staten Island community and beyond.
Megan Callahan Scarcella was assigned a photography project titled 'Life, Liberty and the Pursuit of Happiness'. She feels passionate about women's rights, and decided to focus on rape prevention.
"I handed it in, and it got a positive response until it got hung up," says Scarcella.
The photos show her best friend, Andrea Gonzales' bare back - each picture has a powerful message saying 'My Body Rules', and 'No Means No'. Their parents all approved of the work.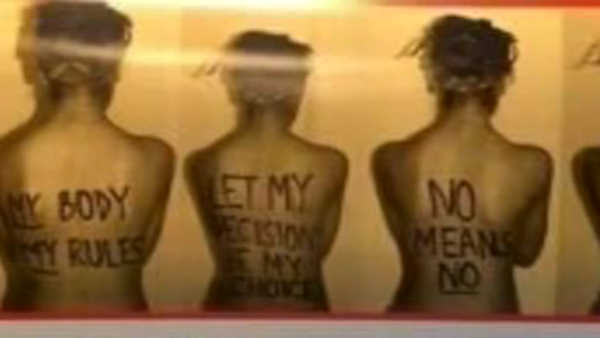 "It was such a good idea. It was a good message - it would teach kids about consent and rape culture, and things that need to be talked about more," said Gonzales.
Administrators at Susan Wagner High School were concerned, because the girls are underage, and banned the 15-year-old's project. In response, angry students protested the censorship in an online petition.
"We talk to the principal, and they said they loved the idea - they loved the principle, but that there's an issue because I am a minor. That was the only issue - they loved the message," Gonzales adds.
Principal Gary Giordano explained in a statement,
"We encourage and welcome the artistic expression of our students. The piece was addressed across art classes sparking meaningful conversations among students and teachers on a host of themes around social consciousness."
Scarcella believes that instead of teaching women not to get raped, that 'we should be teaching men and boys don't rape'.
"Instead of telling the victims don't get raped, it's not helping anything. You need to target the problem at the source," she says.
Scarcella and Gonzales understand the controversy, but want people to focus on the message of the art.