NEW YORK (WABC) -- The first nor'easter of the season is bringing heavy rain and strong wind to the entire Tri-State area sparking flash flood warnings and creating hazardous travel conditions.
Click here for the latest advisories, watches and warnings from the National Weather Service
The powerful storm is taking shape off the Atlantic coast bringing significant rain and miserable conditions to the New York metropolitan area
Watch the updated AccuWeather forecast
2 to 5 inches of rain are expected throughout the area with locally higher amounts that could range between 4 to 6 inches. The intense rainfall could result in flooding issues in low-lying and poor drainage areas.
Travel could be difficult across parts of the area
. New York and New Jersey declared states of emergency ahead of the storm, urging people to stay off the roads.
Some communties closed schools or went all remote because of the conditions.
| Find out which schools are closed in your district
On the backside of the storm, winds could gust as high as 30-40 mph. Higher gusts near 50 mph are possible on Long Island. Eastern Suffolk county is under a High Wind Advisory Tuesday.
Tuesday
AccuWeather Alert: Nasty nor'easter. High 59.
Wednesday
Lingering shower. High 60.
Thursday
Best bet. High 60.
Friday
PM rain. High 59.
Saturday
Still showers. High 62.
Sunday
A Halloween treat! High 61.
Monday
Mostly sunny. High 60.
WATCH: Weather Or Not with Lee Goldberg - now available on our connected TV apps for Fire TV, Roku, Apple TV and Android
MORE ACCUWEATHER RESOURCES
Check AccuTrack Radar
AccuTrack Radar New York City view
NWS Advisories, Watches and Warnings
School closings and delays
For weather updates wherever you go, please
download the AccuWeather app
.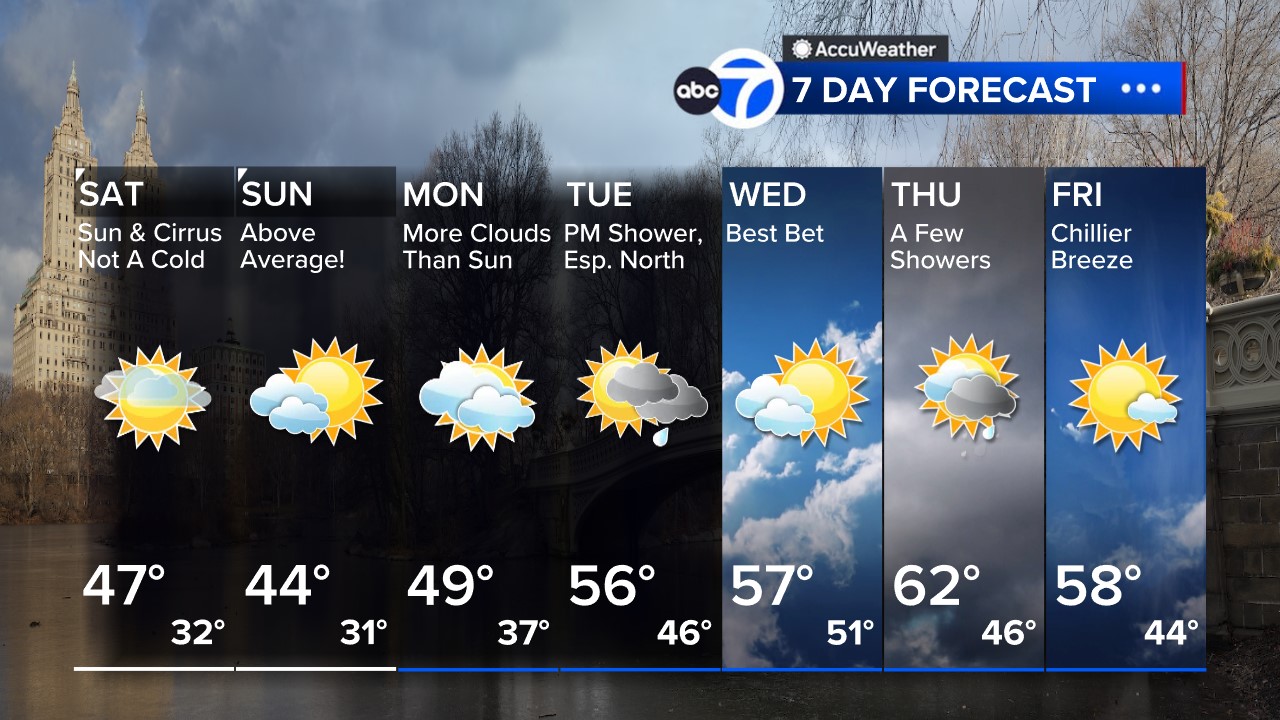 Share your weather photos and videos
, and Eyewitness News may show them on TV or any of our digital and social platforms