NEW YORK (WABC) -- Love locks come in all shapes in sizes, and are placed all over the Brooklyn Bridge - all professing their love to each other.
Now, the City DOT is hoping some 'tough love' will deter the locks from appearing.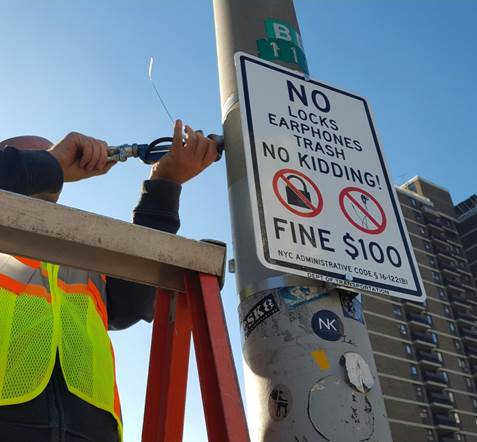 "We want to encourage lovers to visit the Bridge - it's a very romantic place," said DOT Commissioner Polly Trottenberg.
Recently, there were so many locks on a wire that it snapped, dangerously dangling over traffic.
"It's actually very heavy, so imagine falling onto the roadway onto a motorist's windisheild...it will kill somebody," said Chief Thomas Chan of the NYPD Transportation Bureau.
Since 2013, the DOT has clipped 34 thousand locks at a cost of $116,000 a year. Some filled a couple of buckets with the locks that were taken off.
Many believe in Paris, 'The City of Love' is where the 'Love Lock' has its strongest hold. Some bridges across the River Seine are covered with thousands of locks placed by lovers with the keys thrown into the river. Lauren Sandiego was engaged on that bridge.
"I don't believe in putting that, because it will kind of like ruin the structure, and maybe weaken the bridge," Sandiego says.
New signs are going up on the Brooklyn Bridge warning people of a $100 fine if you place a lock on the bridge. More than 8,000 locks have been removed this year alone.