LINDENHURST, Suffolk County (WABC) -- The brother of a Long Island woman killed while protecting her teenage daughter from an out-of-control car on Mother's Day spoke out about the family's loss Monday.
Diane Aluska, 55, and her 16-year-old daughter Jenna had just left Sunday Mass at a church on Wellwood Avenue in Lindenhurst when they
were struck by an 80-year-old woman
who had accidentally left her vehicle in reverse.
"She had thought that she put it in drive," Suffolk County police officer James Murphy said. "(She) left it in reverse, hit the gas, started speeding backwards, lost control and jumped the sidewalk."
Diane Aluska instinctively shoved her daughter out of the way, but she was pinned and died of massive injuries at a nearby hospital. Jenna was not seriously injured physically.
"It was a beautiful thing that she did," husband Kenny Aluska said. "She gave up her own life for her child. In this world, there's such selfish people that they're just thinking of themselves. More people in the world should be like her."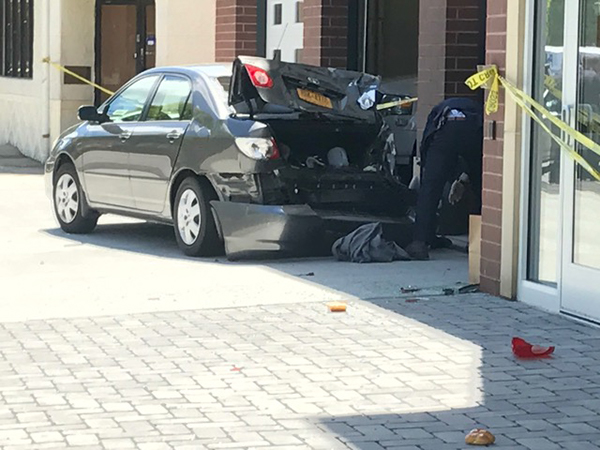 Jenna was only told Monday that her mother had passed away.
"The one that was lying over there on the ground, she was looking for her mother," witness Victoria Fisher said. "She just kept screaming for her mom."
The victim's brother came to the scene of the crash for the first time to see it for himself.
"She was great," Robert Acquista said. "She was everything to us...I can't put it into words. She did everything. Every holiday was at her house, everything. She's going to be missed tremendously by everybody."
Residents in the village were devastated, saying Aluska was well known and well liked after having worked at Babylon Town Hall for more than a decade.
"It doesn't shock us that Diane did something like that," Babylon Town Supervisor Rich Schaffer said. "She was really, in the Town Clerk's Office, the glue that held the office together."
The driver was identified as Ann Riolo. Officials say the incident appears to be an accident, and no criminality is suspected.