LONG ISLAND SOUND (WABC) --
It was a beautiful afternoon for a cruse in the Long Island Sound, but on a hybrid electric research vessel, the only one of its kind in North America, this was no average cruise.
Captain Travis Mingo pilots the spirit of the sound, which belongs to the Maritime Aquarium in Norwalk, Connecticut.
After a 15-year-old girl named Hannah Doyle snapped a breathtaking picture of a humpback whale feasting on fish in the middle of the sound last week, the aquarium decided to offer a whale watching cruise. Gail Romero drove from Hoptacong, New Jersey, just to see some whales.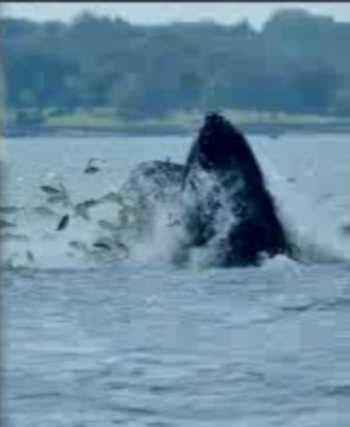 "We've gone on whale watches before, and we're lucky enough to have seen a whale breach out of the water, and it's just amazing. Makes us feel so small," Romero says.
"Even just the slightest chance of seeing a whale in Long Island Sound is better than no chance at all," Captain Mingo adds.
In the vast expanse of a Long Island Sound, a hunt for one or two whales is the ultimate search for a needle in a haystack and likely exercise in futility. However, marine biologists say the emre fact they're taking this cruise at all is a very good sign.
"I'm ready to jump out of my skin - I mean, really!" says Joe Schnierlein of the Maritime Aquarium of Norwalk.
Schnierlein has been researching the Sound for four decades, dating back to the 1600s. He says he has found no record of a humpback in the sound, but suddenly last summer, three of them appeared - and just last month, two of them. He says it is a sign that the Sound's once legendary pollution problems ar finally turning around.
"When I first started working here I could remember taking groups to the shore - and having raw human fecal material floating by and we've gone from that to having millions and millions of -butt - baitfish - and that's what the whales are after. It's an incredible feast for them," he adds.
Schnierlein says improvements to septic treatment on the coasts of Connecticut and Long Island's North Shore have yielded in increased oxygen levels, and the emergence of an entire food chain.