BAYONNE, New Jersey (WABC) -- A cat was found wandering around in New Jersey with an arrow completely through his body.
North Bergen resident Kelly Shannon went out to feed some of the local feral cats when she found one of her favorites, Sparky, shot with an arrow.
"I started to leave and I saw Sparky in the alleyway. I said, 'Come on Sparky, are you going to eat?' And Sparky didn't move and as I approached him, I said, 'What's that on you?' I couldn't really see what it was, and when I got further I saw he had an arrow in him," Shannon said.
Officials say that it was evident that the person who shot Sparky did so while the cat was facing the shooter.
The arrow struck him in the left shoulder area, and the tip exited his left flank, leaving the shaft embedded in his body.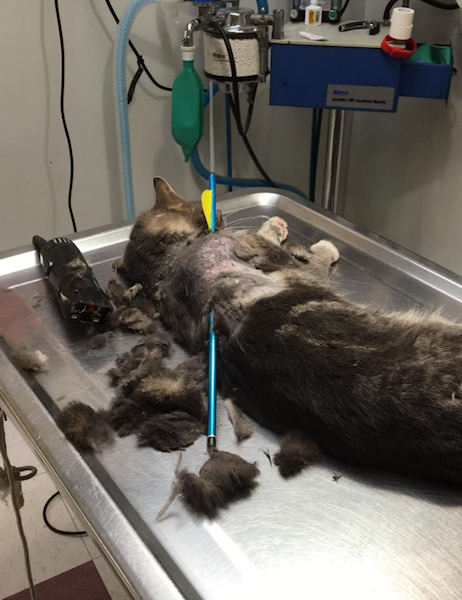 Shannon and a neighbor somehow managed to get the feline in a travel crate and took him to the vet.
Despite being in pain, the cat remained calm and was sweet to everyone to whom he came in contact.
Sparky is currently in the care of The Animal Clinic of Bayonne. Fortunately, veterinarians say that the arrow did not pierce any vital organs and right now his prognosis is fair.
Sparky will also be neutered, given all of his vaccinations, and tested for FeLV/FIV while he is recovering from his wounds.
Once recovered, he will be on the move to Ohio to go to his forever home with a woman who is adopting him.
"I'm looking at a 13-hour drive with a cat to get him to Ohio," Shannon said.
"You are going to drive this cat to Ohio?" Eyewitness News Reporter Jim Dolan asked.
"I will, I will, because he deserves it, after all of this, he deserves it," Shannon said.
To help with Sparky's medical expenses, please visit:
https://www.gofundme.com/help-for-sparky-shot-by-arrow
Authorities are investigating this incident.