BRYANT PARK, Manhattan (WABC) -- Congrats, Big Apple! We've broken the record for the warmest Christmas in New York City history.
Temperature readings in Central Park reached 66 degrees at 12:31 a.m. Friday, breaking the previous record of 64 degrees set in 1982.
On Christmas Eve, New Yorkers in shorts and tube tops turned a winter morning into a summer day, embracing temperatures that soared into the 70s.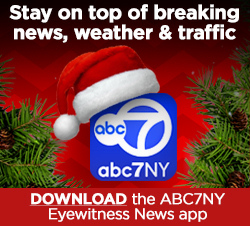 "Sometimes global warming is awesome," Meg Roedling said as she ran through Brooklyn Bridge Park in shorts and a T-shirt.
A noontime temperature in Central Park of 72 degrees Thursday crushed the previous record of 63 degrees, set in 1996. The 72 degrees was only 3 degrees cooler than it was on July Fourth.
High temperature records also tumbled across upstate New York as Buffalo, Rochester and Syracuse topped 60 degrees. Albany's 58-degree temperature Thursday morning broke the record of 57, set in 1941.
A line stretched out the door in the late afternoon at a frozen yogurt shop on Manhattan's Upper East Side.
It was hardly traditional Christmas Eve fare, but "the weather made my friend want to get it," Talia Raven said as she waited in the weird warmth.
"I keep feeling like I'm forgetting something - my coat," she said.
Dozens of people in shorts and tank tops went running in Brooklyn's Prospect Park.
Rupert Warwick, of Cornwall in the United Kingdom, said the temperatures were similar to what he was used to in December in the southwest of England.
"I came here with my daughter expecting to have that typical New York Christmas, which would be cold, snow, frosty weather," he said.
Warmer-than-usual temperatures are projected to extend through January. For December, average temperatures just over 50 degrees are about 12 degrees above normal.
The combination of record-setting temperatures and gnarly waves drew more than two dozen surfers to the popular summertime surf spot Rockaway Beach on Christmas morning.
With temperatures nearing the 60s, some surfers were wearing thinner-than-usual wetsuits without customary winter hoods and gloves as they enjoyed the best of Christmas presents: nearly 5-foot waves breaking just so into the Queens shore.
"Santa gave us waves this year," said Ryan De La Cruz, 31, of Manhattan, as he bounded into the water just after dawn with his surfer pal Matt Muro. "But I have to be done before my girlfriend gets up to open presents."
And the unseasonably warm weather made it less jarring to duck dive into oncoming waves and linger longer in the Atlantic waiting for the perfect swell, said Mike Reinhardt, owner of Locals Surf School.
"It's ungodly warm out there," said Reinhardt, 26, after taking a break from the action, his winter hood pulled down. "I'm overheating."
Water temperatures measured in the low 50s on Friday, cold enough to warrant full wetsuits and boots, but not as cold as previous years.
(AP Photo)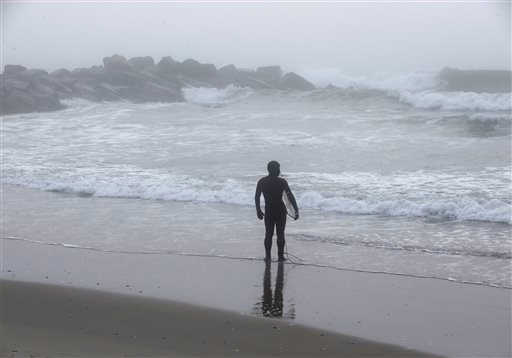 Avid surfers paddle into Rockaway waters year-round, braving frigid temperatures and freezing wind chill to catch good waves. Just days after a blizzard smacked the Northeast last January, surfers walked along the snow-caked sand beaches searching for the best spot to surf.
But the warmer temperatures have drawn even relative newcomers to the beach so far in 2015.
"Everyone's bugging out about the weather being pretty solid," said local surfer Matt Kisilenko, 25. "It's become a known spot now."

(The Associated Press contributed to this report.)