WESTON, Conn. (WABC) -- A Connecticut woman accused of conspiring with her boyfriend to kill his parents when they were considering cutting him out of their will is scheduled to make her first court appearance Monday.
31-year old Jennifer Valiante of Westport is expected to be arraigned in Bridgeport Superior Court on charges including conspiracy to commit murder and hindering prosecution.
The police affidavit leading to her arrest quotes text messages between her and her boyfriend, 27-year old Kyle Navin.
The victims bodies were found buried in the backyard of a vacant home in Weston last week.
An arrest warrant charges Kyle Navin, who already is in federal custody on a weapon charge, with two counts of murder and murder with special circumstances, state police said. Valiante was arrested Friday night and charged with conspiracy to commit murder and hindering prosecution.
A police affidavit says Jeffrey and Jeanette Navin were considering cutting their son, Kyle out of their will.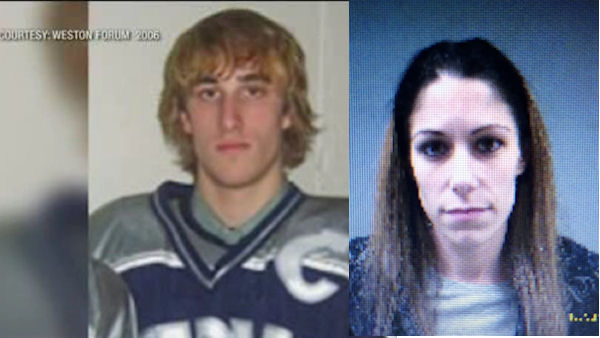 Earlier Friday, Assistant U.S. Attorney Tracy Dayton said there was evidence, including the discovery of the remains, that "very strongly suggests" that Kyle Navin killed his parents. Her comments came during a hearing in federal court in Bridgeport in the weapon case against Kyle Navin.
His lawyer, Eugene Riccio, declined to comment on Dayton's statements, the discovery of the remains or the gun charge.
Jeffrey and Jeanette Navin hadn't been seen since Aug. 4. Their pickup truck was found with a shattered window on Aug. 9 in a commuter parking lot in Westport. Jeffrey Navin, 56, was president of J&J Refuse in Westport. Jeannette Navin, 55, was a school library aide in Weston.