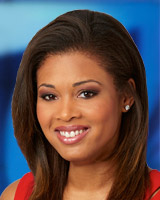 A.J. Ross is an Emmy Award winning reporter and multimedia journalist who joined the Eyewitness News team in 2014. Prior to joining WABC-TV, A.J. worked for WKYC in Cleveland where she covered several national stories including the dramatic rescue of Amanda Berry, Gina DeJesus and Michelle Knight from nearly ten years of captivity.

A.J. landed her first job in television working as a production assistant at ESPN. She made the transition from behind the scenes to on-camera talent at WMBF in Myrtle Beach, SC. While working as a reporter and anchor there, A.J. covered the disappearance of then governor Mark Sanford, one of the biggest wildfires in South Carolina history, and the NAACP's boycott of the confederate flag at the South Carolina State House. A.J. then moved to WSYX/WTTE in Columbus, OH where she covered a range of stories from the Senate Bill 5 protests to the Zanesville animal massacre. A.J. has also worked in her hometown of Pittsburgh, PA as a freelance reporter.

A.J. is an honors graduate of the John H. Johnson School of Communications at Howard University where she majored in broadcast journalism with a minor in history. While there, she interned with WHUT-TV and also served as a general assignment reporter and sports editor for the campus newspaper, 'The Hilltop,' which was voted the nation's number one collegiate newspaper by the Princeton Review in 2004.

A member of Alpha Chapter Delta Sigma Theta Sorority incorporated, A.J. has also served on the board of the National Association of Black Journalists and the Cleveland Boys & Girls Club Bridge Board.


---