BUSHWICK, Brooklyn (WABC) -- The NYPD said a newly obtained witness video could help detectives solve a nearly 5-month-old double homicide case out of Bushwick, Brooklyn.
The video, also obtained exclusively by 7 On Your Side Investigates, appears to be shot through a front door peephole and shows three individuals bundled up in warm clothing and pacing inside an apartment complex.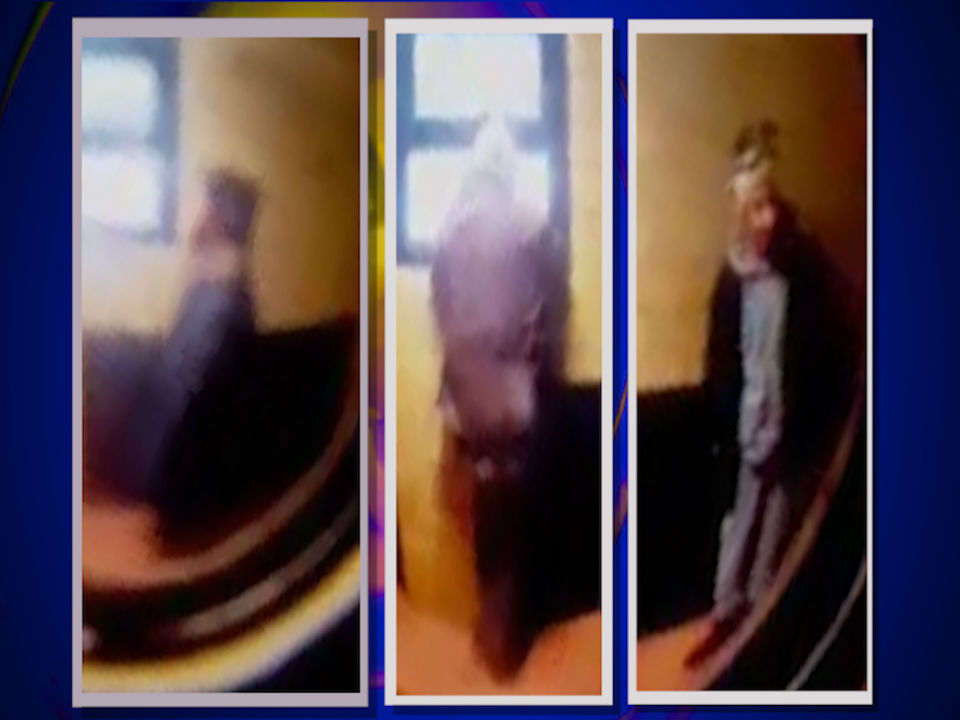 "We're not saying they're suspects at this time," Detective Thomas Handley said. "We believe they have information that could help us in this investigation. So we would like to find out who they are."
Police said the video was apparently shot on the fifth floor of the Bushwick Houses at 140 Moore Street, around the time police said someone shot and killed two apparently innocent residents.
Ana Delvalle, 62, and Basil Gray, 54, were both found murdered inside their apartments in May. Handley said ballistics indicate the same weapon was used in both killings.
Delvalle and Gray were next door neighbors, and Handley said both victims were killed the Friday before Mother's Day, on May 11, 2018.
Delvalle's daughter discovered her mother tied up and shot three times, including once in the forehead, when she returned home from work that Friday evening.
"Seeing my mom like that was the most horrific thing," said Delvalle's daughter, who spoke exclusively to Eyewitness News on the condition of anonymity. "I had actually bought her some flowers because in two days it was going to be Mother's Day. When I first walked in and saw her laying on the floor, I thought she had slipped and fell. But when I got closer, she was tied up and had a bullet right in her forehead. What they did was just a savage act that not even an animal would do."
Handley said he and other officers had actually knocked on the second victim's door Friday night hoping to get information about Delvalle's murder, but they got no answer. Two days later, on Sunday, family members discovered Gray's body when they came to visit and called the police.
"It's a heinous crime, and we're going to catch up with them," Handley said. "It's only a matter of time, and I think, with the community's help, we will get there."
Handley said it's unclear why anyone would want to hurt either individual. Delvalle, a mother and grandmother, was a retired seamstress who spent her days visiting a neighborhood gym and senior center and cooking for her family.
Delvalle, who had lived in the building since the 1990s, was also known for cleaning the shared hallway in the housing complex for all of her neighbors. Her mop and cleaning products were found still in the hallway when police arrived.
Residents said drug deals often occurred in the stairwells of the complex where Delvalle lived, and Handley speculated she could have seen something while cleaning that resulted in her murder.
Gray and Delvalle had been neighbors for around five years and were described as friendly, but Handley couldn't say for sure how Gray was involved or why both were murdered.
"We're keeping an open mind to all the possibilities, and drugs could be one of them," Handley said. "But we're keeping an open mind. I think as we move forward, the picture will become clearer, and we'll start developing suspects and hopefully a motive."
Delvalle's daughter hopes the people in the video are identified and come forward with information that helps identify her mother's killer or killers.
"Justice, that is what we are fighting for, and that is what is keeping us alive," she said. "I feel completely lost ever since this happened. Who is going to feel safe? The not knowing is worse than what I saw, because there is no closure."
Anyone with information about this crime can make an anonymous tip to Crime Stoppers for an up to $10,000 reward by calling 1800-577-TIPS.
DO YOU NEED A STORY INVESTIGATED? Jim Hoffer, Danielle Leigh and the 7 On Your Side Investigates team at Eyewitness News want to hear from you! Call our confidential tip line 1-877-TIP-NEWS (847-6397) or fill out the form BELOW. You can also contact Jim and Danielle directly: Jim Hoffer: Email your questions, issues, or story ideas to 7OnYourSideJim@abc.com Facebook: facebook.com/jimhoffer.wabc Twitter: @NYCinvestigates Danielle Leigh Email your questions, issues, or story ideas to 7OnYourSideDanielle@abc.com Facebook: DanielleLeighJournalist Twttier: @DanielleNLeigh
If using the app, click here to send us a news tip