RICHMOND HILL, Queens (WABC) -- A 55-year-old woman is charged with murder in the death of her 9-year-old stepdaughter, ahd her ex-husband also faces charges in the case.
Police arrested Shamdai Arjun on second-degree murder charges after she was questioned about the death of Ashdeep Kaur.
She faces 25 years to life in prison if convicted.
Her ex-husband, 65-year-old Raymond Narayan, is being held on charges of obstructing governmental administration.
A tearful Arjun was escorted by police officers Saturday while wearing a white Tyvek suit and handcuffs as she left the 102nd Precinct.
The clothes she wore when police found her are now part of evidence. The woman had nothing to say as she headed to see a judge.
Ashdeep Kaur was strangled, authorities say, and was found dead in a bathtub.
"This is a horrifying case of a child, a defenseless nine-year-old, who was left in the care of her stepmother who allegedly strangled her to death," said Queens District Attorney Richard Brown.
Brown said Arjun was observed by an eyewitness leaving along with Narayan and her two grandchildren ages 3 and 5 on Friday evening and was asked about the nine-year-old victim's whereabouts.
She allegedly informed the eyewitness that the child was in the bathroom and was waiting for her father to pick her up.
The eyewitness, who observed that the bathroom light had been on since 11:00 am, called the victim's father and was instructed to break open the bathroom door at which time she observed the victim in the bathtub, Brown said.
According to prosecutors, NYPD detectives responded to the residence of Raymond Narayan and observed both defendants and the two grandchildren inside the apartment.
The defendant refused to come out and refused to allow entry for over one hour, Brown said. Narayan later opened the door and both defendants were apprehended.
The arrest came as no surprise to relatives of Kaur.
"The stepmom did whatever thing - because she always tell me that she sometimes beat her up, you know," said the victim's uncle, Dharminder Singh.
It was around 6 p.m. Friday when a neighbor tried to use a shared bathroom in the multi-family home on 112th Street in Richmond Hill, but the door was locked and it was strangely quiet. It was quiet, because behind that door was a gruesome scene. Inside was a bathtub with no water in it, and Kaur's lifeless body.
A family photo shows the little girl with her father, her stepmother, and her stepmother's two grandchildren.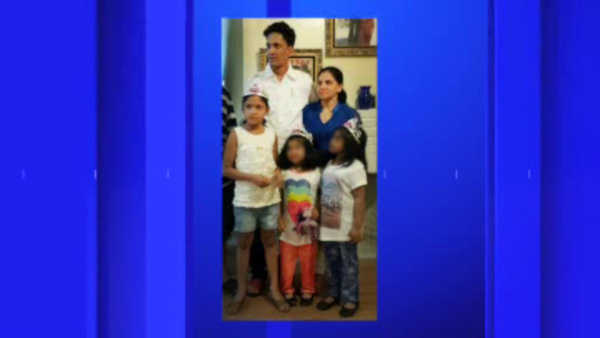 It's a family photo, relatives say, that doesn't tell the full story of what was really going on.
The girl's grief-stricken father appeared overwhelmed as he left the precinct on Saturday, neediong help just to make it to his car.
Malkit Singh, Kaur's uncle says this was not the dream she came to America to chase. The shattered dream, is now the family's nightmare.
"She just come from India three, four months ago. After maybe six, seven years, after she didn't see he father, she comes for three months here, and she's finish," he said.
The Medical Examiner still needs to determine the exact cause of death, but the question on everyone's mind is what could have led her stepmother to kill her in such a violent manner.