EAST ORANGE, New Jersey (WABC) -- A family forced out of their New Jersey home was able to make to safety thanks to their neighbors.
The fire started just before 8 a.m. Saturday inside the home on Whittlesey Avenue in East Orange.
Moses Pryce says there was no time to think. Pryce, along with other neighbors ran into a burning home Saturday morning to rescue their neighbors. Inside the house that was burning, they know there was a grandmother in a wheelchair and her quadriplegic grandson.
The grandson was carried out of the home by Pryce, who is a giant of a man at 6'5", 270 pounds.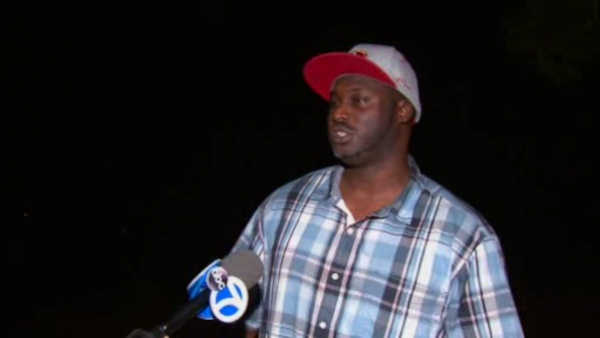 "As I was getting in, their nephew had him coming down the steps, but he's a little guy, you know what I'm saying? So I carried him and took him to the neighbor's house, and he was the last one out," said Pryce.
"It was a lot of smoke - once the door opened, you could just...the smoke overwhelmed you - your eyes, everything," added Shauna Pryce.
The fire started before 8 a.m. on Whittlesey Avenue. It took dozens of firefighters less than 20 minutes to get flames under control. The seven people who lived inside the home all made it out safely because of the quick thinking and heroic actions of neighbors.
"I used my garden hose and tried to keep the fire down, but the fire was too hot," said Walter Joseph.
Shauna Price says a random stranger passed by and saw them knocking, and picked up a bat out of his trunk, and was getting ready to smash the windows, when the man came out.
The first neighbor who woke up the family, humble and modest, declined to be interviewed by Eyewitness News, saying he didn't want credit for doing something he was supposed to do. His mother watched him run into a burning building and then carry out the grandmother in his arms.
"He's always been like that - very quiet and humble," said Hazel Joseph.
The family was placed in a hotel by the Red Cross - the fire caused enough damage that they could not stay in their home.
The cause of the fire is still under investigation.