RICHMOND HILL, Queens (WABC) --
Five people, including two firefighters, were injured when a massive fire ripped through a row of businesses in Queens on Saturday night around 11 p.m.
A wall of flames raced through an entire block on Liberty Avenue in Richmond Hill.
Kamaldai Mootoo lives above a jeweler, and was home with her husband and two daughters when the fire broke out in one of the shops below them.
"Lost everything, I don't have anything - just the clothes that I wear when we ran out of the house," Mootoo says.
The fire was all hands on-deck. About 200 firefighters trying to keep the 7-alarm blaze under control.
In exclusive video, you see members of Ladder 143 - among them, firefighter Flohr.
"The store was on fire, and we were looking for trapped people on the second floor, and conditions rapidly deteriorated," says FDNY Chief James Leonard.
Firefighter Flohr says he was in a rear bedroom when the fire flashed over him. He had just 10 seconds to pull out and activate his personal safety system - anchor and rope. Flohr safely got out of the building.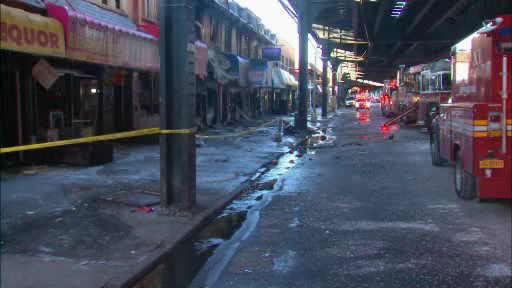 Firefighters were able to rescue some residents from the apartments. No one was seriously injured.
Firefighters remained on the scene Sunday putting out hot spots. The cause of the fire remains under investigation, but officials believe it was fueled by strong winds.
The Red Cross is helping the people who were displaced by the fire.