BRENTWOOD, Long Island (WABC) -- A 27-year-old off-duty NYPD officer was seriously injured early Sunday in a crash on the Long Island Expressway.
The accident happened at about 12:30 a.m. just east of exit 53 in Brentwood.
The officer, Anthony Robitaille of the 75th Precinct, had pulled over to the shoulder in his 2010 Honda to speak to the driver of a BMW, possibly because of a fender-bender.
Both drivers were outside of their vehicles on the shoulder when police say a 2013 Ford sedan, driven by Desirea Coyle, struck the rear of the Honda. The Honda then struck the BMW and Robitaille.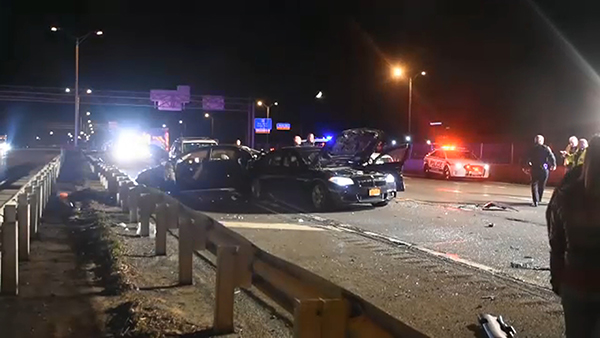 Robitaille, of Centereach, was transported by Suffolk County Police helicopter to Stony Brook University Hospital for treatment of serious injuries, including a head injury.
Coyle, 33, of Highland Falls, NY, was taken to Southside Hospital in Bay Shore for treatment of minor injuries. A passenger in the BMW sustained minor injuries and declined treatment.
The crash is under investigation and no charges have been filed.
----------
*
More Long Island news
*
Send us a news tip
*
Download the abc7NY app for breaking news alerts