HAUPPAUGE, Long Island (WABC) -- It was a father-daughter excursion that nearly ended in a disaster. The small plane Louis Obergh was piloting with his daughter inside lost engine power about 2,000 feet in the sky.
Obergh, radioed for help as he deployed a parachute attached to the plane. The parachute system allowed the Cirrus SR22 Aircraft to drop slowly to the ground, missing a building by just ten feet.
"I didn't even know until today that planes even had parachutes," said Suffolk County Police Commissioner Tom Sini.
Police say Obergh and his daughter were coming back from looking at colleges in Connecticut. They were heading back to Republic Airport in Farmingdale when they ran into trouble. The aircraft crashed on a grassy area of an industrial park in Hauppauge eight miles east of Republic Airport, shortly after 3 p.m.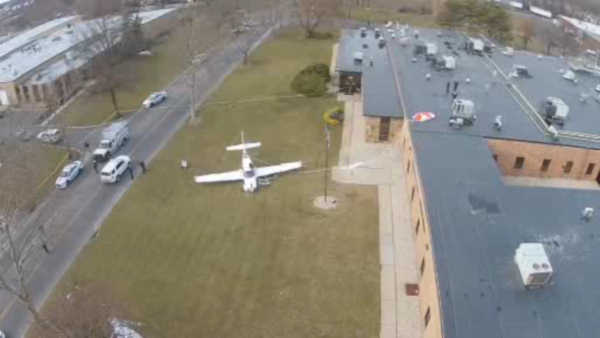 "We got lucky, very lucky. Never expected to ever have a problem like this," said Obergh.
Obergh only suffered a minor scratch to his head - his daughter was uninjured. They refused medical attention. Officials say they were both shaken up, because once that parachute deployed, there is no way of knowing where you will land.
"Once parachute deployed, you do lose some control, so it's hard to know," says Obergh.
The FAA and the NTSB continue to investigate.
Officials say given the minor injuries in this case this could be a relatively quick investigation.