RIDGEWOOD, Queens (WABC) -- The NYPD is investigating a storage facility shake down in Queens.
Detectives said someone broke into the Cube Smart facility at 1060 Wyckoff Avenue in Ridgewood on New Year's Day and ransacked more than a dozen units, taking more than $35,000 worth of stuff.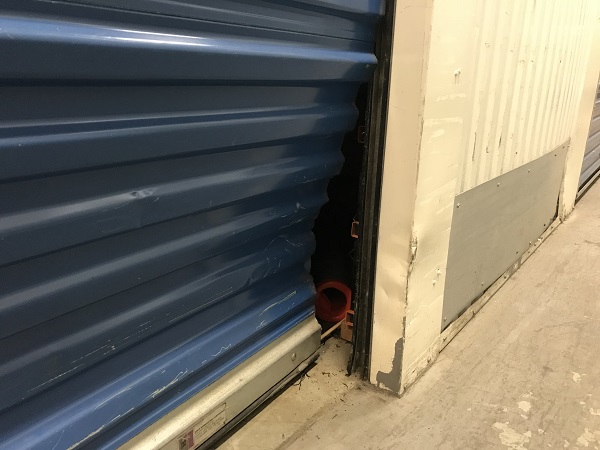 Jack Finlay of Brooklyn was among the victims. He had been using a first floor unit to store equipment for his production company, Decade Pictures.
"As soon as I went to the locker, I went to unlock it and it just pulled open," said Finlay, who discovered the damage several days after the theft.
"Immediately, I was going crazy kind of," Finlay said, thinking of the thousands of dollars' worth of lighting and film equipment, among other things, that thieves had removed from his unit.
Other big ticket items reported stolen so far include wedding rings, computers, and a sound system.
Detective Jeffrey Rogers, in the 104 Precinct has been fielding a steady trickle of calls from victims like Finlay.
Due to the nature of storage facilities, Rogers said people don't regularly check their units and so he worries the losses could be much higher than already reported.
"Go back to the location, check on your property, make sure it's still there, and if it's not, let us know what to be looking for," Rogers said. "The case is going to take a while because some people live out of state, some people might be in the military where they put things in storage for an extended period of time and they won't know what's missing or how much is missing until they return."
Rogers said at least one suspect was captured by surveillance video, along with a white cargo van, currently considered a vehicle of interest.
The suspect seen on surveillance video, likely had help from others, Rogers said, adding that whoever was behind the break-in had intricate knowledge of the facility.
"There were two clusters of units that were broken into," Rogers said. "They definitely knew their way around the building."
"For us, luckily everything is replaceable," said Finlay who is moving to a new facility and indicated he has a new appreciation for renter's insurance.
Anyone with information about the man captured on surveillance video, the white van and whoever else may be behind the break-in is asked to call Crime Stoppers at 1800-577-TIPS for a $2,500 reward.
----------
DO YOU NEED A STORY INVESTIGATED?
Jim Hoffer, Danielle Leigh and the 7 On Your Side Investigates team at Eyewitness News want to hear from you! Call our confidential tip line 1-877-TIP-NEWS (847-6397) or fill out the form BELOW.
You can also contact Jim and Danielle directly:
Email your questions, issues, or story ideas to 7OnYourSideJim@abc.com
Facebook: facebook.com/jimhoffer.wabc
Twitter: @NYCinvestigates
Email your questions, issues, or story ideas to 7OnYourSideDanielle@abc.com
Facebook: DanielleLeighJournalist
Twitter: @DanielleNLeigh