NEW YORK -- There was no real rose ceremony at the beginning of this week's "The Bachelor," Nick pretty much just handed each of the remaining four women a rose. Then, it was time to go meet their families.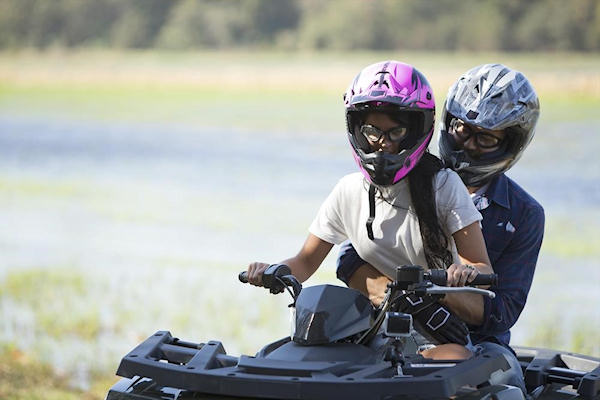 First up, was Raven's hometown in Hoxie, Arkansas! They loaded up on a four-wheeler and went riding in the mud. So Raven took him over to a grain bin, because they hold secrets or something? Before they could go climb it, a cop stopped them and they asked them what they were doing there. Turns out it was her brother! He was just giving them a hard time.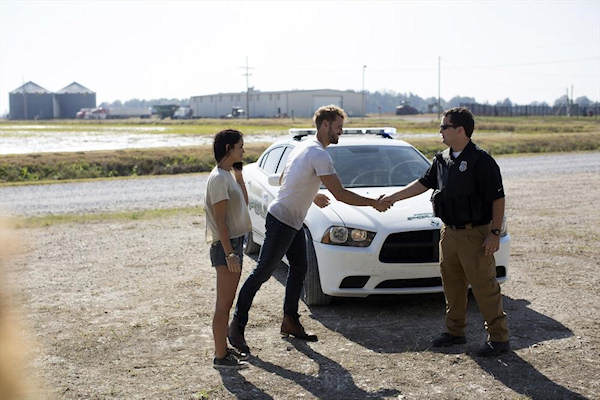 Nick loved how they were joking around and having a great time! Then Raven and Nick took off on their four-wheelers and really got into the mud. Nick said that he was having a great time! He added that this relationship is probably moving at the fastest pace all of a sudden. Once they were done, they stripped down and got down and dirty in the mud! Wow! I guess they weren't afraid of snakes or leeches? Ew! He laid her down in the water and kissed her and she did the same to him, no one was staying clean!
Raven brought Nick to meet her parents, and she noted that her father recently had lung cancer. The best news happened, her parents told Raven that her father's recent scan came back clear and her dad is now cancer free! What a great way to start their visit! Raven told her parents that she is really "thankful" for them and she's learned what she should look for in a relationship thanks to them. It was so heartfelt and just a beautiful moment! Does all of America now love Raven and her amazing family?! Her dad said that he is so glad that it will be him someday that will walk her down the aisle, it will be him. Raven told him, "There is no other man who will ever walk me down the aisle, I'll walk alone." Wow.
She told her mother that Nick is amazing and she realized it when she saw the way he was with his parents and little sister. Her mom asked her if she would tell him she loves him and Raven said that she can see that happening in the future. Her mom wants her to put her heart out there and go for it if she really is in love with Nick. Nick told Raven's dad how happy he is for his health. He asked Raven's dad if it would be ok if he asked her to marry him if that's where this process ends up. He said that he has faith in Raven's judgment and he likes him more than he expected he would! So he did get the blessing! As Raven walked Nick to his car, she told him that she has no hesitation as to what would come from their relationship. She couldn't say it! Raven did not say I love you to Nick. She's worried that she's the only one who hasn't said it to him and worries it will ruin her chances.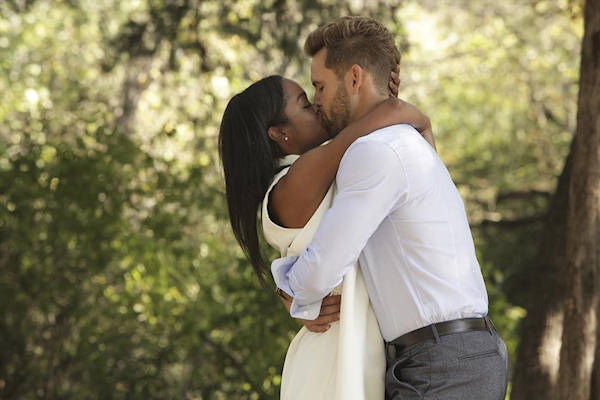 Rachel's hometown was second. Nick headed off to Dallas where he was welcomed with open arms. Nick said that his relationship with Rachel is the most "explosive" when referring to their chemistry. She took him to her church so that he could learn more about her beliefs and to see if he was comfortable being in a predominantly black church.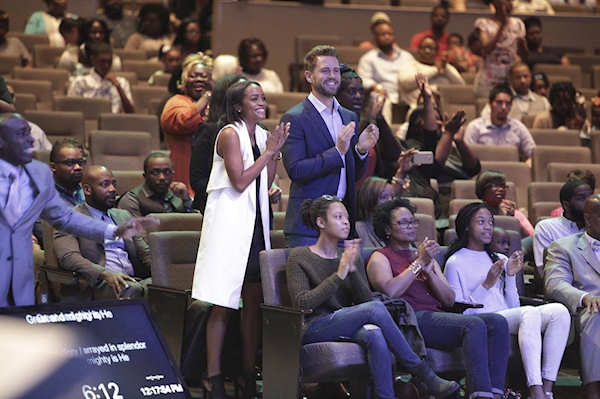 Nick said it was different, but it was an amazing time! After church, they had a discussion where they both decided that it didn't matter that they are an interracial couple, they see each other for who they are beyond skin color. Nick was disappointed to learn that he wouldn't get to meet Rachel's dad because he has work obligations.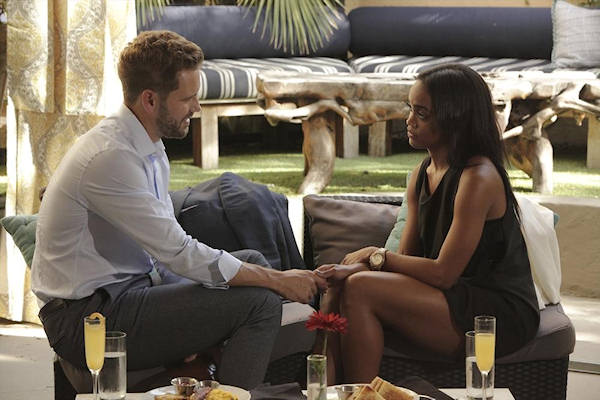 Nick met Rachel's mother, aunt, sister, brother-in-law (who is white) and their baby. The brother-in-law asked him if he had past relationships with someone who is black and he said he had only had a series of first dates, but this is his first serious relationship with a black woman. Her mother asked the same questions that the brother-in-law did. Nick just kept saying that he likes who Rachel is as a person and it's as simple as that. Her mother spoke to her about how the conversation went, and she said she liked what she sees with Nick and how he interacted with Rachel and the whole family. Rachel said it was a perfect day.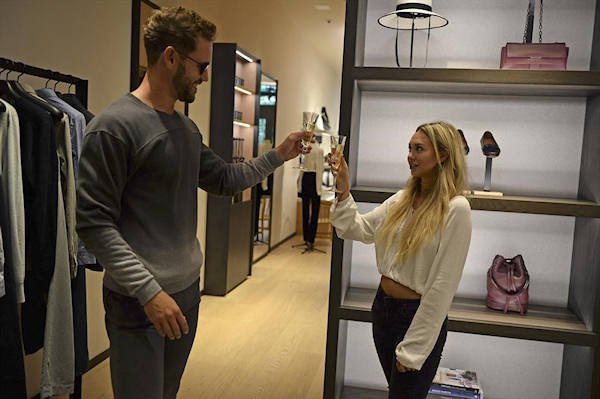 Next stop, Miami for a glam hometown date with Corrine. They met up at an expensive mall where they bought a bunch of designer items. They played around with some earmuffs and hats and just seemed to have a great time. Nick said he thought he had expensive taste, and then he met Corrine! He even tried on sweatpants that were $800 and a sweatshirt that was $600.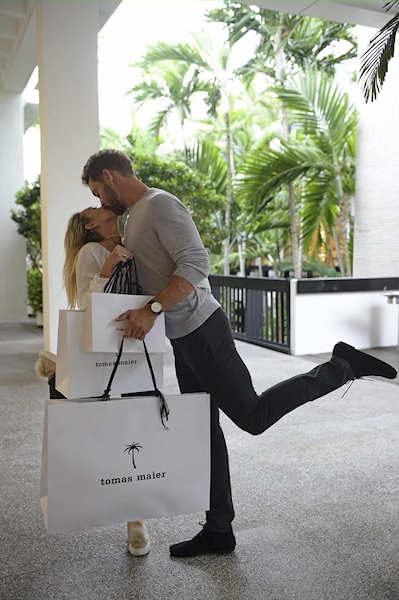 Insane! They spent thousands of dollars!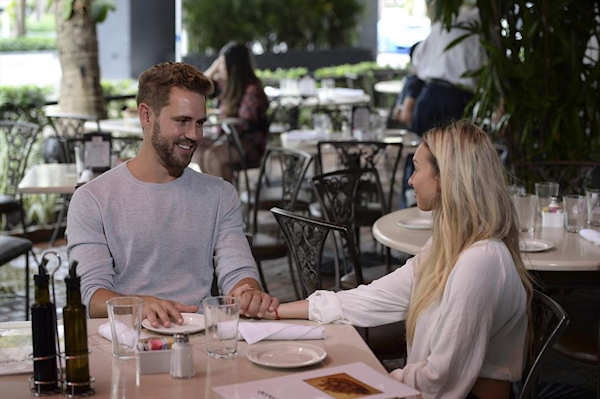 They had lunch alfresco where they talked about their day, and Corrine told him that she was falling for him and said, "I love you." Nick just kissed her and he told her he had a fun day with her and said he couldn't wait to meet her family. Wow, he didn't send her packing, so he must have some real feelings for her!
After picking up a bunch of bouquets of flowers, Corrine and Nick headed off to her parents' house. Nick met her mom, dad, sister, and her nanny Raquel! Poor Raquel's hands were shaking as she served the family their meal. They said Raquel was part of the family, and she was, she sat and ate with them too. Nick ate her dad's famous Greek olives and that made him happy. Apparently, that's a deal breaker if Nick doesn't like the olives. Her dad asked her how things were going and he was shocked that Corrine told Nick she loved him already. Her dad seems so sweet, not at all what I think most were expecting. They seem like a very loving family. Nick told Raquel that he cares about Corrine and she told Nick not to hurt her. She even asked what Nick's intentions were with Corrine! The only thing her dad seemed a bit concerned about is that Nick doesn't make as much money as she does and she would be the breadwinner. He told Corrine's dad that he has every intention of being the breadwinner and he thinks he can do that. Her dad gave Nick his blessing to propose if that's where things end up.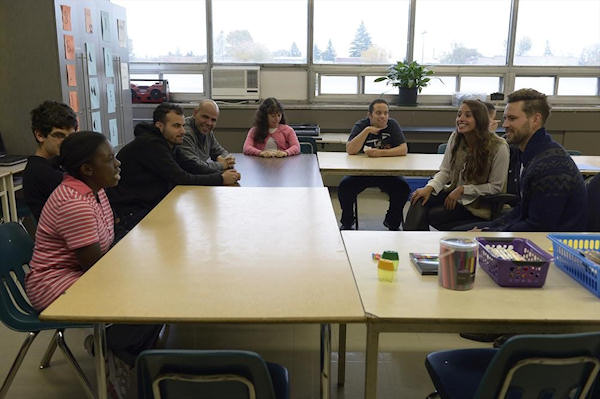 Last up, it was Vanessa's turn in Montreal where she took Nick to meet her students. They are all over age 21 and have special needs. They helped Nick and Vanessa make a scrapbook of their dates together. The students had a great time creating the book. They said they liked Nick a lot and that warmed Vanessa's heart to see how great he was with all of them.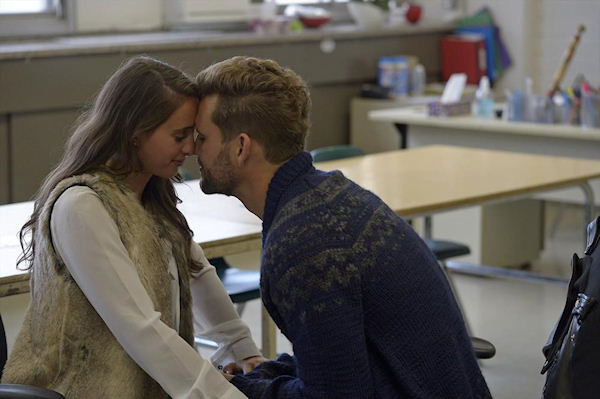 It was time to meet the parents, but they are divorced so they had to make two stops. She said she purposefully didn't combine the visits because she wants him to see what it's really like for her to split her time between them. It's how her real life is.
They walked into her mother's house with her siblings, cousins, aunts and uncles, grandparents, and two best friends all waiting. Her aunt was worried that they hadn't talked about their future too much, like where they would live and things like that. Her family really gave him the third degree about his intentions and what their real life would be like after the show ends. Her sister told Nick that she would hate him if he broke her heart and Nick started to cry! Her sister was like, "What is he going to do after this anyway?" Referring to a job, and Vanessa was like, "I don't know!" The entire family seems terrified that they will have to pick up all of the pieces if he doesn't pick Vanessa.
At her father's house, Nick met Vanessa's dad and her step-mother. Her father asked him what he finds special about Vanessa compared to all the other women he's dating. Nick said that he really likes that Vanessa acts like herself. He told Nick that he just wants his daughter to be happy. Her dad said that he finds it a little disrespectful that he's still dating a bunch of women at once and refused to give Nick his blessing while he's dating three other women. He admitted to her father that he also asked the three other families for their blessings. Vanessa's dad was really put off by that. He said, 'You don't ask me until you are sure.' Despite that, in the end, he said, "I'll give you my blessing!" Wow, talk about a turn around! She told her dad that she would say yes if he asked her to marry him. She was shocked though, when her dad told her that Nick also asked the other three families for their blessings as well.
Nick traveled to Brooklyn for the rose ceremony. Vanessa said that she needs to get some "answers." Knock, knock at the door - it's Andi! Nick's old flame from "The Bachelorette." What could she want?! No more roses tonight, we'll have to wait until next week!