NEW YORK (WABC) -- An Eyewitness News exclusive investigation found that trains carrying dangerous chemicals are passing over a busted rail just miles from Manhattan, and an expect thinks it could result in a disaster.
Video of the train cars rolling over the missing rail shows clearly the potential danger as each wheel on every train comes completely off the broken track.
Three rail safety experts who looked at this video say it's unsafe, including a former NTSB rail accident investigator whom after seeing the video came to the location for a first-hand look.
"The gap is more than two feet," Former NTSB Rail Investigator Pat Riley said. "Basically what you have here is a train that derails and re-rails. And you can see that it's been going on for some time because the ends are battered."
But Conrail said it's safe.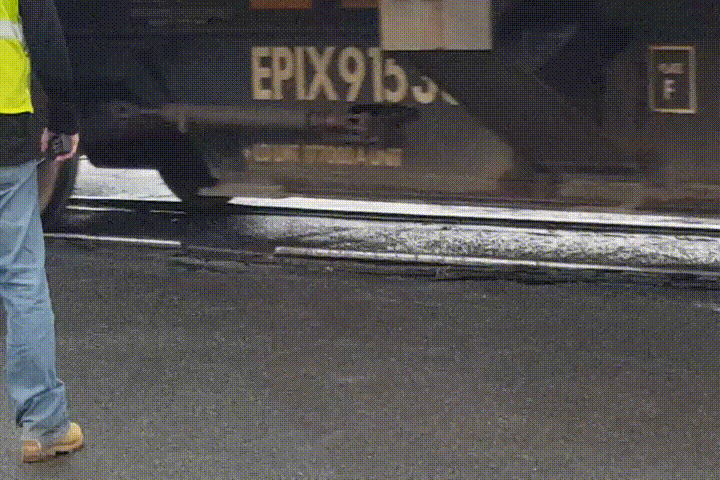 We asked Riley if he thought it was a danger.
"It's definitely a danger," he said. "The track conditions are unsafe."
Workers near the track say that the rail has been broken for at least two months.
"There's such a large piece of the track missing that it thumps real loud every time it goes by and you can feel our whole building shake," said Larry Rhodes, who works nearby.
Many of the freight cars rock back and forth as they roll across the missing rail. What worries the workers and our rail expert is this -- chemical tanker cars going over the 26-inch gap.
In one case, we saw tanker cars with hazardous placards for sulphuric acid go by. The Emergency Response Guidebook lists the chemical as toxic and, if inhaled, may cause severe injury, burns or death.
"It's highly corrosive, highly toxic rolling over that more than two foot gap," Riley said. "It's a disaster waiting to happen."
"Workers say three to four trains a day come through this part of New Jersey known as Chemical Alley because of its oil terminals and chemical plants -- all in the shadow of Manhattan
"I can't believe a big operation like a railroad would run with that kind of equipment day in and day out," said Larry Rhodes, who works nearby.
Monday, a spokeswoman for Conrail, which owns the track, said they do take precautions to ensure safety here. She said before every train comes through the track is inspected and each train is restricted to a speed of just two miles per hour. Conrail said it also intends to fix the broken rail later this week.
"It shouldn't pass inspection in that condition," Riley said, adding that he thinks there's a risk for derailment.
SHARE YOUR STORY
Do you have a story that needs to be investigated? 7 On Your Side Investigates at Eyewitness News want to hear from you!
Email your questions, issues, and story ideas to 7OnYourSideJim@abc.com, call our confidential tip line 1-877-TIP-NEWS (847-6397), or fill out the form above.
You can also contact Jim Hoffer on Facebook and Twitter.