UPPER EAST SIDE, Manhattan (WABC) -- 13 people were injured when a tour bus slammed into a tree on Manhattan's Upper East Side.
The accident happened at about 1:15 Thursday afternoon at 5th Avenue and East 63rd Street.
The double-decker bus is operated by Go New York Tours.
Two people, a pair of tourists in their 70's, were seriously injured, while 11 other people suffered minor injuries.
Police say the bus was heading south on 5th Avenue when it swerved to avoid being cut off by a taxi, went onto the sidewalk and struck the tree.
Many of those injured were on the top deck of the bus.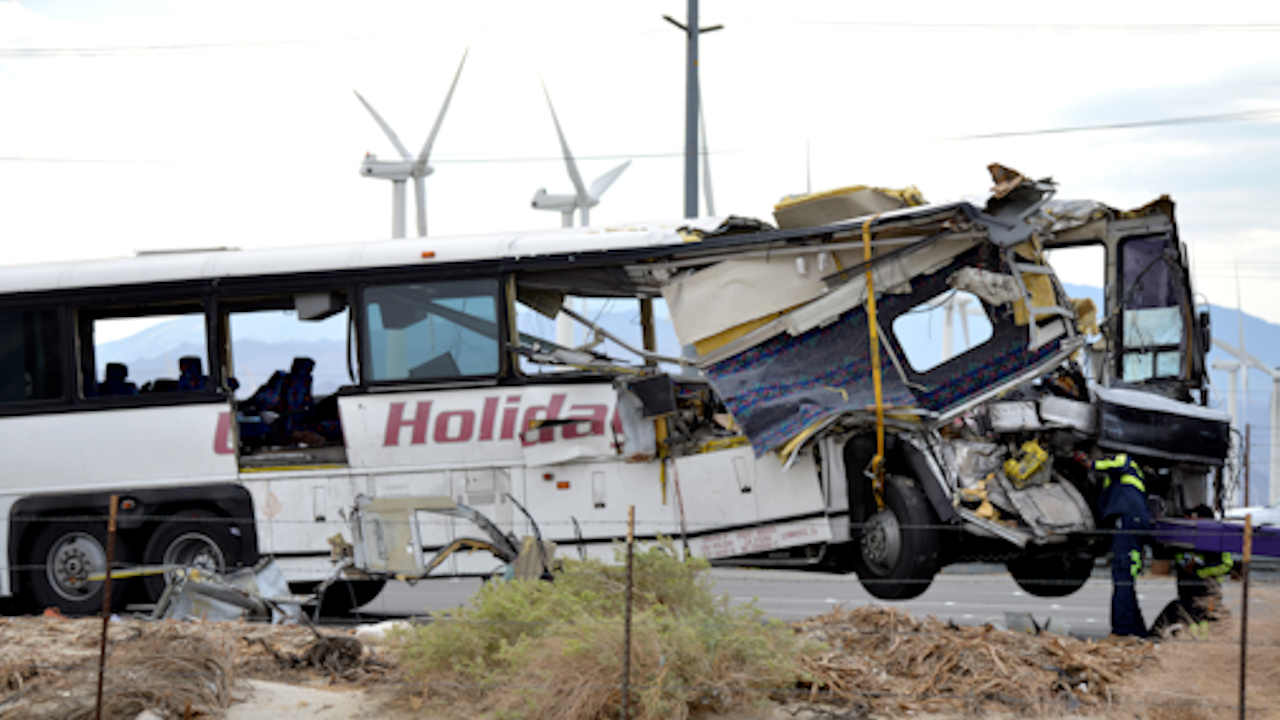 The bus's front end was heavily damaged and the windshield smashed in.
Rescue crews climbed to the top of the bus to get to the passengers.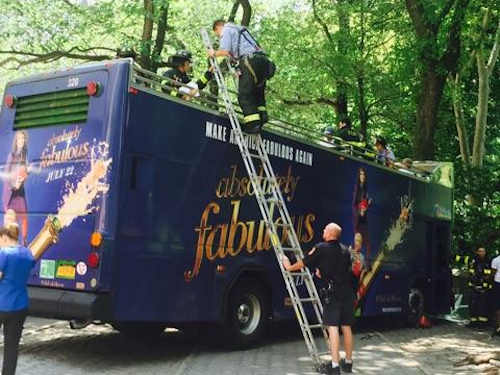 A group of construction workers across the street heard the impact and rushed to help.
"At that point it was so fresh, people were in shock," said Danny Palletto. "We were basically telling people to stay calm, making sure the bus wasn't leaking gas. Mainly the people on the top of the bus hit the seats in front of them."
Parks workers had to bring the tree down after the crash.
5th Avenue is closed between 62nd and 63rd Streets.
There are extensive traffic delays in the area as a result of the accident, and drivers are being advised to use alternate routes.
Records show that on March 15th, one of the buses in the company's fleet was involved in an accident with a car in Queens.
The company has 22 buses and 40 drivers. In the last two years, three buses failed federal inspections and were taken off the road.
The company has 18 violations, one of which was because a driver did not have a commercial driver's license.
Several witnesses did not see a taxi, but said a city bus had stopped in that spot, and that the tour bus driver swerved to avoid the other bus.
Go New York Tours released a statement Thursday night saying, "This afternoon at approximately 1:30 pm, a double-decker, open-top tour bus operated by Go New York Tours, crashed near 63rd Street and Fifth Avenue in New York City."We are saddened to report that several passengers on board were injured as a result. The injured passengers were immediately taken to nearby Lenox Hill Hospital. According to police reports, the bus swerved to a sidewalk and crashed into a tree to avoid being cut off by a taxi. The operator of our vehicle was also taken to the hospital for a precautionary examination."We deeply regret the distress caused by this incident and our thoughts are with the affected families and friends of those involved. We are grateful to local authorities for acting quickly to care for those who were injured."In the four years of our operation and literally thousands of tours, safety has always been and continues to be our top priority. We adhere to and comply with the federal and state guidelines on vehicle and driver safety."We are fully cooperating and working closely with local authorities and law enforcement officials as the investigation into this incident continues."Presently, this is all of the information that we have to share. We will provide updates as additional information becomes available and it is appropriate to do so."