MIDTOWN, Manhattan (WABC) -- Police are searching for a woman suspected of setting fires that forced the evacuation of hundreds of people from a Midtown Manhattan hotel Tuesday.
The second-alarm fires broke out just before noon at the Staybridge Suites Times Square, located at 340 West 40th Street between Eighth and Ninth avenues.
The NYPD said the woman used an open flame to set fire to the inside of a room and set fire to two garbage cans in the hallway of two separate floors before fleeing eastbound on West 40 Street.
Police released a photo of the suspect and described her as 20 to 30 years old, 5'7", 180lbs, black hair in a ponytail; last seen wearing a black shirt, black pants and black shoes.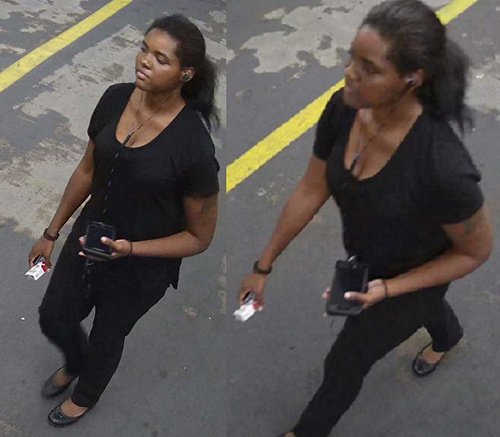 More than 500 people were evacuated after the garbage fires on three separate floors.
FDNY Manhattan Borough Commander Roger Sakowich said first responders were aware of two of the fires and then discovered the third.
One fire was in a room, while the other two were in the hallways. They were found on the third, eighth and 18th floors.
Hotel guest Lloyd Harrington first smelled the smoke after opening the door to his room.
"From the ninth floor, the smell became stronger," he said. "By that time, everybody was in the stairwell on their way down, and we actually met firemen on their way up."
There was a heavy presence of firefighters outside the building. Despite some long hose runs, the fires were all extinguished quickly.
"We got down about four more flights, and it's like, the smoke was heavy as well," guest Leigh Jenkins said. "So I didn't know if there was another fire on a different floor. So that caused some panic on the way down."
Jenkins was with her son Patrick, who is about to turn 8.
"I was scared," he said. "I put my shirt over my nose about the eighth floor and I didn't know what happened."
One person was evaluated at the scene, but there were no reports of any serious injuries.
Officials do not believe the incident is an accident, and both the NYPD and Fire Marshal were investigating.
----------
*
More Manhattan news
*
Send us a news tip
*
Download the abc7NY app for breaking news alerts
*
Follow us on YouTube